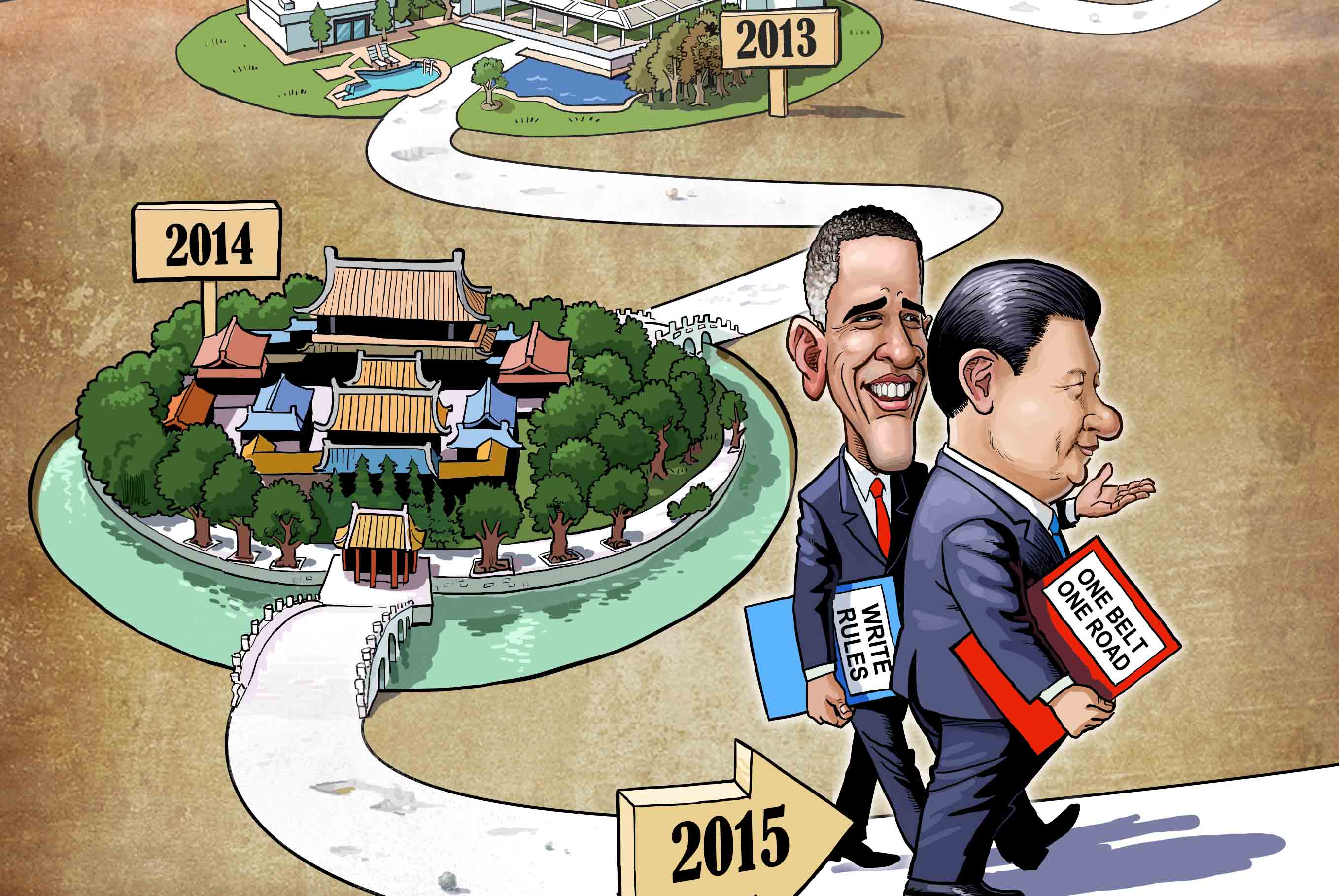 The recent announcement in Washington and Beijing that Chinese President Xi Jinping will pay a state visit to the United States in September underscores the continuing momentum in the improvement of bilateral relations since the landmark U.S.-China climate agreement reached in Beijing last November. In the months leading to President Xi's U.S. visit, however, both countries will need to work hard to create favorable conditions for a productive summit.
The U.S. and China have high stakes in a successful state visit by Xi. To the Chinese leader, such a visit will not only bolster his domestic political standing, but also help forge what he has called "a new type of great power relations" (a designation that has yet to be formally embraced by the U.S.). Since taking office in November 2012, Mr. Xi has been hosted as the Chinese head of state in all the capitals of major countries except Washington. For a top Chinese leader, a formal state visit to the U.S. is considered a mark of recognition by the world's most powerful country. Xi's predecessors, Jiang Zemin and Hu Jintao, took years to get their ticket to Washington. Jiang paid his state visit to the U.S. in 1997, eight years after he became the general secretary of the Chinese Communist Party. Hu Jintao's state visit to the U.S. did not occur until January 2011, about eight years after he became the Chinese president (Hu did come to Washington in 2006, but that was not officially a state visit, at least according to the White House). In Xi's case, he took less than three years to secure the much-coveted invitation for a state visit to the U.S., handily beating both of his successors.
For President Barack Obama, a successful visit by Xi will help secure his diplomatic legacy. The timing of the visit will also be propitious because it occurs before the 2016 presidential campaign. Both leaders should enjoy considerable leeway in reaching important agreements.
Of course, the agenda for the Obama-Xi summit in Washington has yet to be set, but it conceivably will include issues both leaders consider high priorities. For President Xi, he will be concerned with the development in Taiwan, where the pro-independence Democratic Progressive Party is making huge gains and may likely win the presidential election in March next year. China would like the U.S. to reiterate, perhaps in stronger terms, its commitment to the so-called "one-China policy." Given the on-going political tensions in Hong Kong and escalating ethnic violence in Xinjiang, President Xi will also likely seek American reassurances on respecting Chinese sovereignty.
Additionally, President Xi, who has launched a sustained anti-corruption drive, might want to push the U.S. to provide more cooperation in repatriating fugitives (usually corrupt officials who have ensconced to the U.S. with their ill-gotten wealth). On the economic front, an important prize for Beijing is the U.S.-China Bilateral Investment Treaty (BIT). Negotiations over the treaty have been going on for years, but progress has been slow. As anticipated Chinese outbound investment will top one trillion dollars in the coming decade, a U.S.-China BIT will reduce barriers and make the U.S. more attractive for Chinese investors.
The Obama Administration will have a different set of priorities. Topping the White House's wish list would be a Chinese commitment to cooperate with the U.S. even more closely on climate change. A critical U.N. conference on climate change will take place in Paris in December this year. Its success will depend, to a considerable extent, on U.S.-China cooperation. The climate agreement reached between Presidents Xi and Obama in Beijing last year has already greatly altered the political dynamics in global climate talks, but the Paris conference will be the most important occasion to test whether the U.S. and China can bring along other countries. A successful outcome in Paris is of paramount importance to President Obama because it will cement his legacy on climate change.
Another issue the U.S. will likely discuss, to the displeasure of its Chinese guest, is China's territorial disputes with its neighbors. In light of recent revelations of significant expansion of Chinese installations on disputed reefs in the South China Sea, the U.S. will want to urge China to suspend such activities that could lead to dangerous escalations.
The last set of issues, important to the U.S. but less so for China, concern Iran and the Islamic States of Iraq and Syria (ISIS). The Obama Administration would like to gain greater Chinese support on Iran and ISIS. Of the two, Beijing is more likely to be helpful on defeating ISIS because of the threat it poses to Iraq, where Chinese oil companies have lucrative contracts.
Of course, the issues Beijing and Washington would finally put on the agenda for the Xi-Obama summit in September will likely change. But one thing about U.S.-China summit is constant. In the lead-up to the summit, both countries are eager to avoid problems that could derail a productive summit. If this rule continues to hold, at least we can expect a period of good relations between the world's two great powers.