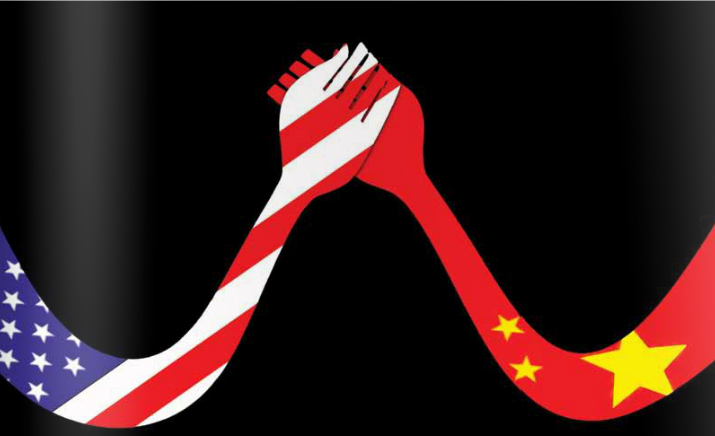 Next week, Beijing will host an informal meeting of APEC leaders. After that, Chinese and American heads of state will hold a Chinese version of the "Annenberg meeting". Top Chinese and US diplomats have been shuttling across the Pacific since last month in preparation for the two important events. Such frequent exchanges of visits are rare in bilateral diplomatic interactions.
China and the US have similar or common interests on broad bilateral, multilateral and global issues. No question about that. But their divergence in interests is equally broad and profound. Since the two countries' leaders' Annenberg meeting in California last June, although the two sides enhanced cooperation on such matters as web security and maritime concerns, their conflicts and struggles remain fierce.
On the issue of cyber security, Washington has repeatedly accused the Chinese government of conducting frequent attacks on the United States. Yet the truth is the US government has carried out extensive eavesdropping at home and abroad. At least its behaviors have been confirmed by various leaked documents, like those exposed by Edward Snowden. After last year's Annenberg meeting, both countries established their own cyber security working group and initiated collaboration on the platform of their strategic and economic dialogue. However, the fine momentum didn't last long. In May, the US Department of Justice launched a high-profile prosecution of five Chinese military officers, making it impossible for the two parties to sustain the dialogue in this field. Through the two months of high-level exchanges, the US should prove its sincerity with practical deeds and eliminate this impediment to the next Xi-Obama meeting as well as a restoration of bilateral dialogues.
On the matter of maritime security, China and the United States has increased communication since last year's California summit, and for the first time participated in joint military exercises during this year's Pacific Rim multilateral military drills. At the Western Pacific Naval Symposium held in China in April, both sides agreed on passing The Code for Unplanned Encounters at Sea, extending the groundwork for the two navies to avoid collisions in and above international waters. At the same time, the US has been strengthening its rebalance to the Asia-Pacific. Washington opposes China's announcement of the East China Sea Air Defense Identification Zone, and explicitly stated that the US-Japan security treaty applies to the Diaoyu Islands area. It has also enhanced containment of our country's efforts to safeguard its territorial sovereignty in the South China Sea. On the issues of territorial disputes over the Nansha and Xisha islands, the US has always stood against China, obviously damaging Chinese interests.
Therefore, as cooperation on regional and international security agenda increases since last year, disagreements between China and the US have also been deepening. Even in the realm of economy and trade, their competitive collaboration has also been deepening. Chinese and American leaders advocate strategic and economic dialogues as well as high-level consultation over people-to-people communication. However, the US has also been doing its utmost to impede China's rapid rise. Seeing the conspicuous achievements China has made in foreign trade and manufacturing since re-entering the World Trade Organization, the Obama administration has proposed establishing high-standard "micro multilateral" free trade and investment zones across both the Pacific and Atlantic, while elbowing out China to enhance the competitiveness of US foreign trade and investments. The two sides' disputes over sovereignty issues and human rights, on the other hand, have never stopped. With "Occupy Central" fermenting in Hong Kong, an additional gaming point has emerged between China and the US.
However, the US faces far more challenges than when Obama became president. Putting aside China's stunning progress, Russia's forceful attempts to alter Georgian and Ukrainian territories, the rapid rise of ISIS in Iraq and Syria, and the fast spread of the Ebola virus have dealt successive blows to "peace under US dominance", resulting in severe challenges to the Obama administration itself. It appears that, after being absent from two informal meetings of APEC leaders, President Obama will return to the summit, and personally strive for headway in such fields as regional free trade, anti-terror cooperation and pandemic control. China and the US may agree and collaborate on such issues. Even though there is competition between them, it is possible to contain its negative aspect.
Besides the two-day informal meeting, Chinese and American heads of state will have a one-day meeting. Following the Annenberg pattern, they will discuss a series of bilateral, regional and global topics of common concern in a relatively informal manner. Bilateral topics may include cyber security, maritime issues and Hong Kong; regional topics include the Korean nuclear issue, Iran nuclear issue, and the fight against terror; global ones will cover climate change and pandemic control. The two countries have started cooperation in many of these fields. Now, they need to deepen collaboration and open up new dimensions for their cooperation. As to the more difficult matters of cyber and maritime security, the two countries need to preserve channels of communication, find out a model of minimum cooperation, and thus preserve bilateral ties and promote regional stability.