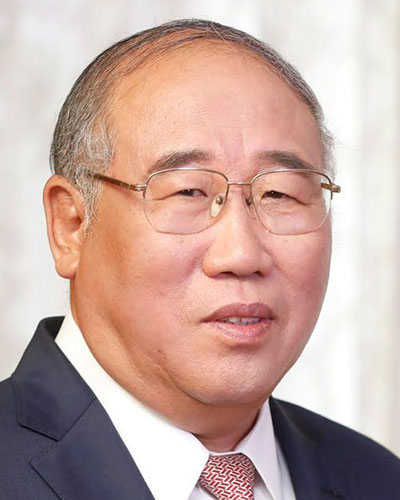 H.E. Mr. XIE Zhenhua has been Special Advisor for Climate Change Affairs (MEE) of China since April 2020. He was Special Representative for Climate Change Affairs of China from 2015 to 2019. In the past decades, he served as Head of the former National Environmental Protection Agency, Minister of the former State Environmental Protection Administration, and Vice Chairman (Minister Level) of the National Development and Reform Commission (NDRC), as well as Vice Chairman for the Committee on Population, Resources and Environment of the Chinese People's Political Consultative Conference (CPPCC) at its 12th session. He was a member of the Central Committee of the CPC at its 16th and 18th sessions, and a member of the Central Commission for Discipline Inspection of the Communist Party of China (CPC) at its 15th and 17th sessions.
Minister XIE Zhenhua has long overseen environmental protection, resource conservation, energy saving and pollution reductions and climate change affairs in China, and has thus made outstanding contributions to the green, low-carbon, circular and sustainable development and ecological civilization progress in China, as well as to the global environment and climate governance. Since 2007, Minister XIE Zhenhua has been leading the Chinese negotiation team to make unremitting efforts for more than ten consecutive years, and played a prominent role in the adoption, signing, entry into force and implementation of the Paris Agreement, as well as in the adoption of the implementation rules of the Paris Agreement. He has also promoted concrete cooperation in energy conservation, emission reductions and green and low-carbon development between China and more than 30 countries, regions and international organizations, and helped train over one thousand officials and technicians in the field of climate change for more than 100 developing countries.
Minister XIE Zhenhua won GEF Global Leadership Award in 2002, UNEP Sasakawa Environment Prize (the highest prize on environment protection in the UN system) and World Bank Special Green Award in 2003, Alliance to Save Energy- Energy Efficiency Visionary Award in 2009, WWF Livable Planet Leadership Award in 2015. Minister XIE Zhenhua won Lui Che Woo Sustainability Prize in 2017. Thereafter, he donated 20 million Hong Kong Dollars money award from Lui Che Woo Sustainability Prize to Tsinghua University and established the Institute of Climate Change and Sustainable Development, serving as its President.
解振华,2020年4月任中国生态环境部气候变化事务特别顾问。2015年—2019年任中国气候变化事务特别代表。曾任国家环境保护局局长、国家环境保护总局局长、国家发展和改革委员会副主任(正部长级)、第十二届全国政协人资环委副主任。中国共产党第十五届、十七届中央纪律检查委员会委员,中国共产党第十六届、十八届中央委员会委员。
解振华先生长期负责中国的环境保护、资源节约、节能减排和应对气候变化事务,为促进中国的绿色低碳循环可持续发展和生态文明建设,推动全球环境和气候治理作出了卓越贡献。2007年以来,解振华先生连续超过十年带领中国谈判团队不懈努力,为气候变化《巴黎协定》的达成、签署、生效和实施以及《巴黎协定》实施细则的达成发挥了突出的作用。他还推动中国与30多个国家、地区和国际组织在节能减排、绿色低碳发展等领域开展务实合作,为100多个发展中国家培训了千余名应对气候变化领域的官员和技术人员。
解振华先生2002年获得全球环境基金"全球环境领导奖",2003年获联合国环境保护最高奖"联合国环境署笹川环境奖"及世界银行"绿色环境特别奖",2009年获全球节能联盟"节能增效突出贡献奖",2015年获世界自然基金"宜居星球领袖奖"。解振华先生2017年获得"吕志和奖—持续发展奖",随后将所获"吕志和奖—持续发展奖"奖金2000万港币捐赠清华大学,创建清华大学气候变化与可持续发展研究院并担任院长。