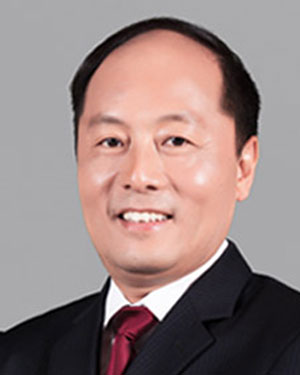 John Zhao, Chairman and CEO of Hony Capital.
Mr. John Zhao is the Chairman and CEO of Hony Capital, an alternative investment management group focusing on opportunities in China. Since its founding in 2003, Hony Capital has gained leading market positions in private equity and real estate investments.
Mr. Zhao holds an MBA degree from the Kellogg School of Management at Northwestern University, Master's degrees in Electronic Engineering and Physics from Northern Illinois University, and a Bachelor's degree in Physics from Nanjing University.

趙令歡,弘毅投資董事長、總裁。
趙令歡先生現任弘毅投資董事長、總裁。弘毅投資于2003年成立,在趙令歡先生的領導下,已成長為中國有影響力的投資管理集團,其私募股權投資與地產金融業務實現行業領先。
趙令歡先生畢業于南京大學物理系,之後獲美國北伊利諾依州大學電子工程碩士和物理學碩士學位,美國西北大學凱洛格商學院工商管理碩士學位。