Next month, Beijing will host a One Belt, One Road (OBOR) conference to discuss global and regional economic challenges and issues of interconnected development. Leaders of 28 nations have already confirmed their presence at this high-level forum. OBOR, which comprises the Maritime Silk Road and the Silk Road Economic Belt, is a Chinese-led development framework that aims to integrate investment and trade in Eurasia through the promotion of connectivity and cooperation between the participating member-states.
Unveiled in 2013 and lauded as the grandest flagship projects of Beijing and the signature project of President Xi Jinping, OBOR was immediately viewed by many as a historic initiative that will revive the classic Silk Road in a new 21st century format, advancing unimpeded trade and financial integration between China and its neighbours. Struggling with poor infrastructure, low investment rates and economic constraints, Central Asian states emphatically welcomed Chinese willingness to promote neighbourhood diplomacy by economic means.
Nonetheless, it has been four years now, but the prospects of OBOR's impact on Central Asia remain unclear, while the commitment of Beijing to invest $40 billion into Central Asia's poor and deteriorating infrastructure have not materialized. To date, China engaged only in few major projects within the framework of OBOR: the construction of Karot Hydropower dam in Pakistan, the purchase of 9.9% in Russia's Yamal liquefied natural gas (LNG) project, and the merger of China National Chemical Corp. and Pirelli & C. S.p.A. Such activities appear rather modest against the backdrop of promised $900 billion to be invested in economic corridors connecting China with Europe via Central Asia, South Asia, Southeast Asia, West Asia, East Africa and the Middle East.
In the context of Central Asia, the list of advancements is even more meager. Interconnected development did not progress beyond declarative statements. For instance, the Silk Road Fund has signed a framework agreement with the Ministry for Investment and Development of Kazakhstan represented by its development unit Kaznex Invest JSC to create a China-Kazakhstan Production Capacity Cooperation Fund. China pledged to contribute $2 billion to this fund, but further developments are yet to be seen.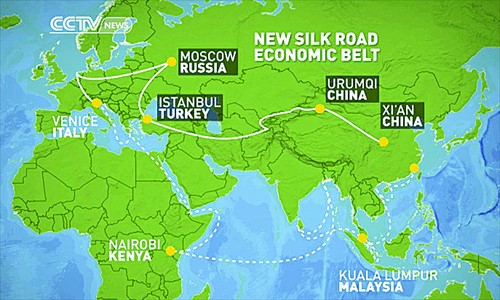 There are several reasons that can account for a relatively little progress in implementing the OBOR vision in Central Asia. The major factor is that there is still a lack of understanding – both in China and Central Asia – of what OBOR really is and what it should look like.The National Development and Reform Commission of China had issued a brief roadmap of OBOR, which outlined China's vision on this initiative, but which lacked clear objectives and actions. It is understandable that China aims to achieve its political goals through OBOR, but there is even no consensus among observers regarding the goals that Beijing seeks to address this way.
Some assert that by means of OBOR, China seeks to break its growing Eastern isolation.
[1]
Others argue that OBOR is part of a Chinese economic expansion strategy to increase its shares in new markets and advance renminbi as the new regional currency. There are those who believe that OBOR is introduced to address Chinese internal economic problems, while there are some who stress that OBOR is a security endeavor to stabilize and develop restive neighboring regions.
The diversity of views on OBOR demonstrate that OBOR is far from being a complete product. It is an evolving concept, which is yet to be finalized. Accordingly, in the context of Central Asia, it remains unclear what form OBOR will take. Is OBOR a qualitatively new endeavour to be implemented in the region? Or, is it simply a rebranded form of Chinese pre-existing infrastructure projects, unified under the aegis of the Silk Road discourses?
Furthermore, it remains unclear whether China's image of a global player that aspires to create an enabling environment for its neighbors to prosper is convincing enough for all interested actors to reconcile the differences and unify under the aegis of the Beijing-led regional integration. So far, 28 heads of state confirmed that they will attend the high-level conference in Beijing in May 14-15, including the likes of Vladimir Putin of Russia, Paolo Gentiloni of Italy, Tayyip Erdoğan of Turkey and Nawaz Sharif of Pakistan. It is expected that António Guterres, the Secretary-General of the United Nations, Christine Lagarde, the Managing Director of the International Monetary Fund, and Jim Yong Kim, the President of the World Bank Group, will also attend the forum. From Central Asia, President of Kazakhstan Nursultan Nazarbayev and President of Uzbekistan Shavkat Mirziyoyev confirmed their participation.
Yet, there is still a long list of invitees who have ignored the invitation, including the leaders of three BRICS member-states – Brazil, India, South Africa, and most heads of governments of G-20 countries. Central Asia is also not fully represented on the highest level. Clearly, Beijing needs todot the i's and cross the t's in terms of OBOR's vision, mission, goals and objectives, and perhaps next time more leaders will buy into the idea of a community of common destiny, economic development, and regional integration.
---
[1]
For instance, see Gabuyev, A. (2016) 'S Kitaem po puti' ('With China along'), 8 July, Carnegie Moscow Center.