Keynote Remarks by Edwin J. Feulner, Ph.D.
Chairman, Asian Studies Center, The Heritage Foundation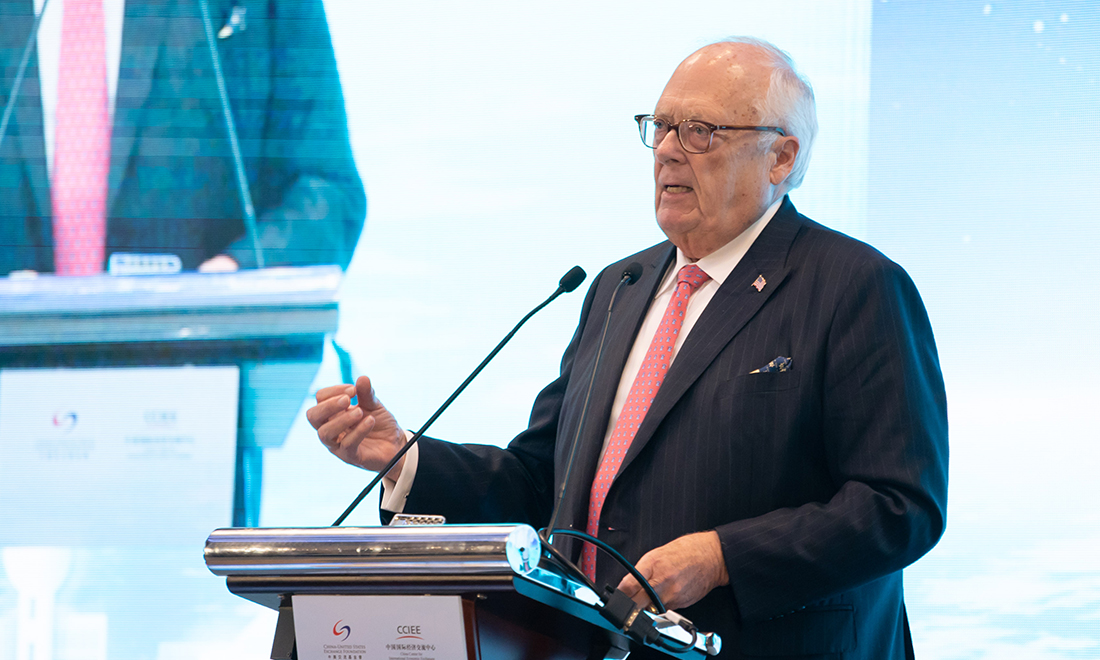 Thank you very much. It's a humbling experience to follow Prime Minister Fukuda who reminds us that public policy issues such as those we will be considering here are not something new in the international arena. Hopefully we will be able to discover new ways that we can all work together to try and resolve at least some of the more contentious issues that confront us at the moment.
Excellencies, ladies and gentlemen I thank you very much for inviting me to be here with you today. Our focus of this important conference is on the U.S. China economic relationship. And I'm honored to be able to share my perspectives today. I have written my remarks down in order to force myself to stay focused and to refrain from discussing other interesting but perhaps items which would be a distraction of what we are primarily here to discuss.
First, a note about my personal commitment to a strong U.S.-China economic relationship. In 1999 as the president of the Heritage Foundation, I convened a public gathering at Washington's National Press Club of the heads of seven of the most influential bipartisan and broadly ideological think tanks in Washington (Brookings, American Enterprise, CSIS, Cato Institute, etc). And we all jointly proclaimed to the Congress and to the American people at that meeting that we were unified in our belief that China should join the WTO, that it made perfectly good sense and that it would begin to encourage compliance with international standards of good economic behavior on the Chinese part. While that message was heard, I suspect in the hearing of that message, the fact that some think tank guys got up and talked about it was probably lost. At least we are on the right side of history at that time. And since then, I've been an enthusiastic supporter of resolving issues in the bilateral economic relationship between our two sides. I say this because as I talk about some of the more contentious issues that we will be discussing, I will not accept a label as Feulner is anti-trade or Feulner is anti-U.S. China trade because this is just not true.
Let me share other note for my personal past activities. I was honored to chair Candidate Trump's and President-elect Trump's domestic policy team during the 2016-2017 transition from the Obama administration to the Trump administration. I remain a supporter of President Trump. I suspect I will be one of the very few participants in this conference speaking from that perspective. But I think it is a perspective that everyone here should be aware of and should be realistic about.
And if anyone is taking notes, I guess the one, the most significant takeaway that I would give you from my remarks today is the following: no matter what the outcome of the 2020 presidential election is, I caution my Chinese friends and for that matter, everyone who is here that wishing for the end of the Trump administration, so that things can go back to normal is not a viable strategy. Frankly, I believe that the president-elect or the president-reelect from either political party will not revert to a pre-Trump position on the China-U.S. economic relationship.
I will give you some reasons why I believe that.
These are incidents that perhaps have not made the local media but I'm sure they are there for those who follow the bilateral economic relationship in detail. Just late last month, it was Senator Mark Warner, a Democrat from the state of Virginia, who together with Senator Marco Rubio a Republican from the state of Florida leading the arguments against Huawei being considered as "just another international telecom supplier" - bipartisanship in action in Washington. It was Senator Chris Van Hollen, a Democrat from Maryland, and Senator John Kennedy, a Republican from Louisiana, who introduced the "Holding Foreign Companies Accountable Act", which will require Chinese companies registered in the United States to abide by the same accounting and transparency rules as companies from the United States and other countries around the world are compelled to do. That is not the case under current law in the United States.
A third point: several local American chambers in China have expressed their concern about doing business in China to Washington policy wonks like myself in recent weeks. They come to Washington at least once a year for what they call "door knocks." That is, they go around Capitol Hill and go around to senators and their staff aides and tell them about their perception of what is going on in this part of the world. And when we talk to them, they admit and we certainly know, that many American companies, giants like Coca-Cola, General Electric, Procter & Gamble, major accounting and legal firms, have done very well in the Chinese market. But they also note there are still specific grievances about the difficulty of doing business in China, and problems dealing with the Chinese government, Chinese state-owned enterprises and Chinese-controlled financial institutions.
And it is unlikely that that problem will be solved by a one-off bilateral trade agreement between the two countries. All of these is specific evidence that I think cumulatively indicates that we should not expect American policy to just bounce back to the 'good old days' of pre-Trump normalcy. That will not happen no matter who occupies 1600 Pennsylvania Avenue.
Our assignment this morning is "where are we now?" Everyone knows and it has already been referenced by Tung Chee-hwa the Presidents Trump and Xi hit the reset button on the U.S. and China trade talks when they met in Osaka on the sidelines of the G20 summit just 10 days ago. At that meeting, if they had achieved less, it would have prolonged the standoff and slowed down global economic growth.
Those of you who have known me and might have the opportunity to work with, know that I am called in Washington on occasion a congenital optimist. Because I do try to look at the bright side of things and if there are solutions to public policy issues that confront us whether they are on the domestic or international side. I know that given it both sides, it seemed to be digging in and it was in my opinion an achievement in itself that the two of them were there and that they shook hands and they agreed the negotiations would be resumed. And they averted a head-on collision and hopefully we will start talking again.
Of course, what we call the "grip and grin", that is the official pose with handshakes, is not guarantee that there is a final deal.
Why is it not? Let me give you at least three basic unresolved fundamental issues from the American perspective.
The first one is the fundamentally different views about intellectual property. You've all heard that from a very long time. Has it gotten better? Probably yes at the margin but still very much there is the point of serious contention. And in the United States the right to intellectual property is enshrined in the U.S. Constitution, Article One, Section 8, Clause 8, enacted in 1787. Obviously, this American perspective and this American position predates even those of us who have been around for a long time as it has been America's law of the land for 232 years.
Therefore, whatever the specific details of a case in the form of the theft of intellectual property, of forced technology transfers or concerns about growing cybersecurity issues, the whole question of respect from patents and intellectual property must be discussed candidly and openly and it must be resolved with more than smiles, sound-good statements and promises for real reform soon. That is not enough.
The second challenge is the opposing views of developing country status for China at the WTO, and the related receipt of massive World Bank loans by China as a developing Third World country. Developing status for China gives China special differential treatment including subsidies, higher barriers, validating some of the theft of intellectual property and subsidized loans from the World Bank. To our mind, if China is the number two economy in the world, it is not unreasonable for Americans to ask when will it start acting like it is number two in the world and not try to game the world's systems? There is a real issue here.
My third major challenge is that Chinese pattern of changing the ground rules in negotiations. I recount a personal conversation I had with a senior American participant in the bilateral trade negotiations between the U.S. and China in the last year and half. And at first he said there was confusion and then frustration on our side when the Chinese side basically decided to go back to square one and start the discussions all over again just two months ago in early May. This person asked, why did we spend all of that time and effort negotiating and making what we thought was real progress to just have it all thrown out? That frustration's been met with skepticism and a lack of enthusiasm, frankly, from some of the people who will be critical to negotiating in good faith with our Chinese counterparts a new agreement. That is not good. Now the two presidents agreed just a ten short days ago that the talks will resume. Washington agreed to postpone levying tariffs on Chinese goods to ease the path towards those negotiations. So Washington is ready to move ahead with talks, China agreed to a substantial purchase of U.S. soybeans. But I have not yet anyway seen the details of that. Then, just a few days ago, back on July 4th, an important day for all Americans, there was a Bloomberg story where we were told the Chinese side is demanding that all current tariffs be lifted before talks can resume. Of course it is those tariffs that has encouraged the Chinese to even enter the negotiations with us. This might be the opening Chinese position in the next round of negotiations or it's maybe just one outlier venting his or her own position.
But knowing our president and knowing the people who are advising him, the tariff removal will not happen other than as part of the overall signed deal and delivered agreement. And a word of caution frankly to my Chinese friends, this way of returning to the table is never likely to succeed with the president who is well known as a tough negotiator and who has repeatedly said that "no deal is better than a bad deal."
All of these are reasons to know that the challenges we face are real. But so too is the opportunity for upgraded U.S. economic relationship which must be our shared goal. Again, it is encouraging to hear from Fukuda to talk about the intense pressures between U.S. and Japan some years ago in terms of negotiating agreements and how at the end it came out much better for both sides because of those negotiations.
So the opportunity for that remodeled and upgraded China economic relationship must be our shared goal. And by stating these challenges clearly and forthrightly, I hope we can define the issues and lead to a further understanding of our differences and resolve as many of them as possible. Those of us who are in the forecasting business as think tankers tend to be, I think across the board in this room at least, we come to the conclusion that the United States and China, in whichever order, will remain the two dominating economies for at least the next half-century. From our side, yes, we have to learn how to adjust more effectively to our interactions with China - the rising power. By I believe that China, the rising power, will also have to learn how to face reality that the United States is the current dominant power and the two of us have to continue to talk and to act positively as we meet and actually carry out the agreements that we can come together on.
So hopefully we can learn together, and I look forward to discussion over the next day and half, from my learned colleagues on both sides of how we might do that one point at a time.
(Note: the above text is based on the transcript of the speech.)