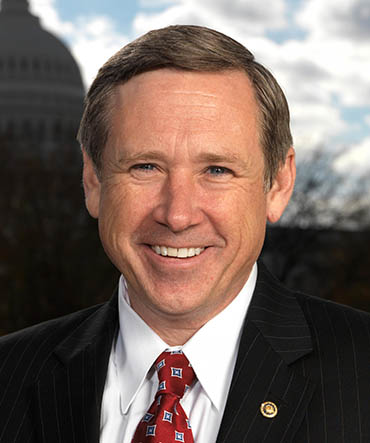 Mark Kirk -- Former U.S. Senator
First elected to U.S. Congress in 2000, Mark Kirk served five terms in the U.S. House of Representatives before being elected to the U.S. Senate in 2010 where he served until 2017. Senator Kirk was Chairman of the Senate Banking Subcommittee on National Security and International Trade and Finance. He was also Chairman of the Senate Appropriations Subcommittee for Military Construction and Veterans Affairs, and a member of the Appropriations Subcommittee on State, Foreign Operations and Related Programs. Kirk previously held positions at the World Bank and the U.S. Department of State, and as a counsel to the House International Relations Committee.
Mark Kirk graduated from New Trier High School and attended Blackburn College and the Universidad Nacional Autonoma de Mexico, where he learned to speak Spanish, before earning at B.A. (cum laude) in history from Cornell University. He also earned a master's degree from the London School of Economics and a law degree from Georgetown University.
Kirk served for 23 years as an Intelligence Officer in the U.S. Navy Reserve. Having traveled to more than 40 counties, he made foreign policy, national security, defense, and international trade cornerstones of his public service.
Given the importance of US-China trade and investment in the Midwest, Kirk established and co-chaired the U.S. China Working Group in the House and the Senate where he earned a reputation as both a fierce promoter of U.S. business interests and a champion of stable US-China relations.
馬可·科克 —— 前美國參議員
馬可·科克(Mark Kirk)於2000年首次贏得選舉進入美國眾議院,連任五屆,隨後於2010年成功當選國會參議員,並連任至2017年。科克參議員曾擔任參議院負責國家安全、國際貿易和金融事務銀行附屬委員會主席。他還曾是參議院負責軍事建設和退伍軍人事務撥款附屬委員會主席,以及負責州、外國行動和相關項目撥款附屬委員會成員。科克曾在世界銀行和美國國務院任職,同時也曾擔任眾議院國際關係委員會法律顧問。
馬可·科克畢業於New Trier高中,並就讀於布萊克本學院和墨西哥國立自治大學,他在那裡學習了西班牙語,他後以優等成績在康奈爾大學獲得歷史學士學位。他還在倫敦政治經濟學院獲得了碩士學位,在喬治城大學獲得了法律博士學位。
科克在美國海軍後備役擔任了23年情報官。他曾遊歷過40多個國家,外交政策、國家安全、防務和國際貿易等議題是其公共服務生涯的基石。
鑒於美中貿易和投資關係對於美國中西部地區的重要性,科克在參眾兩院創立了美國中國工作組,並擔任聯席主席。在此期間,他贏得了美國商業利益積極推動者和穩定美中關係擁護者的聲望。