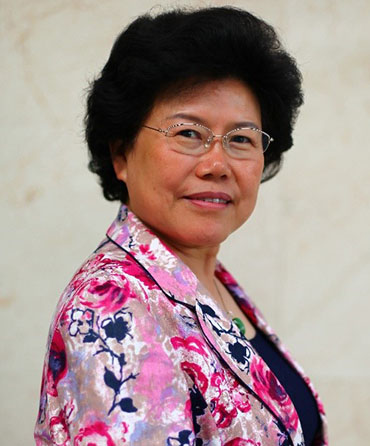 Chen Wenling -- Chief Economist, CCIEE
Chen Wenling is a famous economist in China. She is the chief economist and vice director of CCIEE (China Center for Economic Exchanges) and former director general of State Council Research Office. She is also doctoral supervisor of Nankai University, Beijing Normal University, University of International Business and Economics, and part time professor of Peking University, Shanghai academic of social sciences, Shanghai Maritime University. In the meantime, she serves China Association of Market Development, China Association of Business Economic, China Association of Logistics, China Pacific Society, China Association of Urban Economic and Chinese Poetry Society as vice chairman.
She has achieved outstanding accomplishment in the research fields of international economic, macro-economic, and regional economic. She has authored more than 30 works, 600 papers and 300 internal reports. In recent years, she is focusing on Belt & Road, China-US relationship, BRICS, China-India relationship and so on.
陳文玲 —— 中國國際經濟交流中心總經濟師
陳文玲是中國著名經濟學家、著名智庫專家。研究員,經濟學博士;中國國際經濟交流中心總經濟師、執行局副主任、學術委員會副主任;國務院研究室原司長,國務院醫改諮詢專家委員會專家委員、國務院食品安全專家委員會專家委員;商務部專家,中國流通G30論壇成員,中國文化產業30人論壇成員;南開大學、對外經濟貿易大學、北京師範大學博士生導師。中華詩詞學會副會長、中國書法家協會會員。
長期致力於國際戰略、國際經濟、宏觀經濟、流通經濟等方面研究,目前已公開出版論著30多部,在國家核心期刊和權威媒體發表文章600多篇。在國務院研究室和中國國際經濟交流中心多年工作中,參與了大量國家重要戰略研究、決策研究和政策研究,提出的多項建議被採納,轉化為國家戰略、決策或政策。參與國家有關文件、領導講話和政策研究制定。主持關於中美關係問題研究、國際經濟形勢研究、一帶一路問題研究、中國宏觀經濟及對外開放等重大課題。