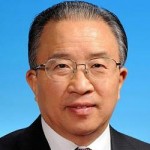 Dai Bingguo
former State Councilor
Dai Bingguo served as a State Councilor, director of general office of foreign affairs leadership group of CPC Central Committee, and director of general office of National Security Leadership Group of the CPC Central Committee.
Jul 06, 2016

A former top Chinese diplomat argues against framing the South China Sea issue as a strategic issue and interpreting China's behavior based on the "western theories" of international relations and history, adding assertions that China wants to make the South China Sea an Asian Caribbean Sea and impose the Monroe Doctrine to exclude the US from Asia are baseless.

Mar 28, 2016

On 19 March, when attending the China Development Forum 2016 at Diaoyutai State Guesthouse, former State Councilor Dai Bingguo had a dialogue with former US Secretary of State Henry Kissinger on the issue of avoiding the "Thucydides Trap".

Sep 17, 2015

Five years after Copenhagen, we see today an unprecedented global effort to secure a successful outcome for the global climate summit to be held in Paris this December. Much progress has been made. But much more still needs to be done. It will also require a deep attitudinal change for all countries on the core, underlying question of sustainable development.

Mar 02, 2011

China's highest ranked diplomatic official reiterates China's commitment to a peaceful rise by arguing that instead of pursuing the "tit for tat" approach to disputes with other countries, Beijing will continue to uphold the principle of dialogue based upon China's long-term interests and benefits.