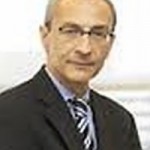 John Podesta
Chair, Center for American Progress
John Podesta is Chair of the Center for American Progress.
Feb 21, 2014

On Feb.20, 2014, at a co-sponsored public event, the Center for American Progress and the China-U.S. Exchange Foundation released a jointly produced report, "U.S.-China Relations: Toward a New Model of Major Power Relationship."

Mar 06, 2013

The year 2013 brings a combination of continuity and change to the US-China relationship. As the United States and China complete their respective leadership transitions, Washington and Beijing must keep the communication lines open to address growing challenges.

Mar 02, 2011

The President of the Center for American Progress argues that the ability for China and the United States to forge forward in a cooperative manner while fully recognizing and addressing differences will be the true test of the maturity of the bilateral relationship.