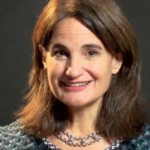 Elizabeth Economy
Senior Fellow & Director, Asia Studies
Elizabeth C. Economy is C.V. Starr Senior Fellow and Director for Asia Studies, an expert on Chinese domestic and foreign policy, and U.S.-China relations.
Jul 01, 2011

It is summertime, and everyone is out sailing on the South China Sea. Unfortunately, the waters have gotten a bit choppy.  The Philippines and Vietnam, in part

May 12, 2011

A welcome air of reality is blowing through Washington these days as the Obama administration readies itself for the third round of the Strategic and Economic D

Apr 20, 2011

Growing up, I could never get enough of the mathematician /humorist /lyricist Tom Lehrer. Even today, his songs sometimes pop into my head. And so it was that w

Mar 19, 2011

China's nuclear industry's free ride may soon be coming to an end. While nuclear power represents a mere fraction of China's overall energy use—just over on

Mar 14, 2011

China's five-year work plan is striking for several reasons: the high degree of continuity from five years ago, the push by Beijing for Chinese companies to assert themselves globally, the strong hand of the state in areas of the economy considered integral to social stability, and the potential for serious debate over several of the redistributive aspects of the plan.