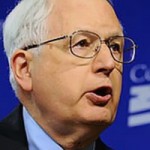 Stapleton Roy
Director, Kissinger Institute
J. Stapleton Roy is the Director of Kissinger Institute on China and the United States. He is a Career Ambassador and retired from the Foreign Service in January 2001 after a career spanning 45 years with the U.S. Department of State.
Apr 09, 2013

North Korea's third nuclear test has dealt a death blow to any remaining illusions that Pyongyang can be persuaded to give up its fledgling nuclear weapons capability. J. Stapleton Roy writes that both Beijing and Washington need to rethink their policies in the face of this reality.

Apr 26, 2012

In an exclusive interview, Ambassador J. Stapleton Roy speaks about China's increasing influence in international institutions and the idea of international structural change. Since the collapse of the Soviet Union, the US is generally perceived as the sole super power nation. This notion has changed as the rise of many developing countries start to participate more actively in international affairs. He envisions China's role in selecting heads of IMF and the World Bank will increase.

Apr 10, 2012

The next decade is likely to be the decisive period determining the future course of U.S.-China relations. Unless China and the United States can find ways to b

Jun 08, 2011

China has gone through an extraordinary economic transformation over the last 30 years. This transformation has remade the face of coastal China. It's now spilling over into the interior and it's raised, literally, hundreds of millions of people to an unprecedented level of affluence.