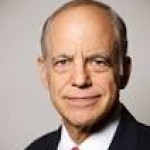 Kenneth Lieberthal
Senior Fellow, Brookings Institution
Kenneth Lieberthal is senior fellow in the John L. Thornton China Center at the Brookings Institution. He served as the National Security Council's senior director for Asia during U.S. President Bill Clinton's administration.
Nov 09, 2012

With both China and the United States undergoing important leadership transitions, Kenneth Lieberthal examines why China's new president, Xi Jinping, has a much tougher job than Barack Obama.

Oct 26, 2012

Kenneth Lieberthal weighs in on how the candidates measure up in Monday's foreign policy debate and concludes that there were few differences between Obama and Romney on China.

Oct 17, 2011

Professor Ken Lieberthal of the Brookings Institution takes a closer look at the China' currency policy in the Brookings Podcast.