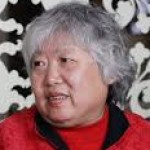 Xiong Lei
Guest Professor, Renmin University
Xiong Lei is a guest professor of journalism at Renmin University of China.
Apr 07, 2014

Government has an essential role to play in curbing pollution in China, however ordinary citizens can also play a role in reducing energy consumption, writes Xiong Lei.

Apr 29, 2013

There is no doubt that devastating disasters like the Wenchuan and Ya'an earthquakes are destructive, yet they also serve as a bond for the nation to unite over, writes Xiong Lei.

Mar 21, 2013

In his closing address to the 12th NPC, Xi Jinping stated, "The Chinese dream, after all, is the dream of the people." As Xiong Lei notes, China's richest resource is its 1.3 billion people and their collective dreams, which are vital for China's national rejuvenation and to provide a prosperous life for all of its citizens.