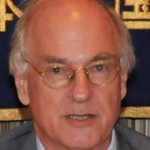 Donald Kirk
Journalist
Donald Kirk is a veteran journalist with decades of experience living and working in Asia.
Jun 13, 2013

While the Xi-Obama Summit was meant to mend US-China relations, Donald Kirk explains the lack of discourse on Asia-Pacific regional issues has only heightened tensions between North and South Korea.

May 29, 2013

South Korea President Park Geun-hye's visit to the United States was overshadowed by a scandal surrounding Park's spokesman. While some believe the scandal distracted from Park's agenda, Donald Kirk postulates that the trip helped cement ties between South Korea and the US, offering hope for future six-party talks with North Korea.

May 03, 2013

Recent tensions along the border of India and China have led some experts to speculate whether the build-up of troops could lead to a repetition of the Sino-Indian border war of 1962. However, as Donald Kirk explains, the latest incident is more about asserting Chinese influence in the region rather than preparing for a military assault.