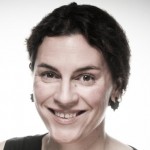 Kristen McDonald
China Program Director, Pacific Environment
Kristen McDonald is leading Pacific Environment's efforts to address pollution and build strong and effective grassroots environmental organizations in China. Under Kristen's leadership, Pacific Environment added a rule of law component and launched efforts to combat air pollution from coal in China. She also helped develop one of the first issue-centric environmental coalitions in China, the Water Environment Learning Network. Kristen received a PhD from the University of California at Berkeley in Environmental Science, Policy and Management and earned her bachelor's degree in Literature and Environmental Studies at Yale University. Kristen has lived and worked in China a combined total of six years and she is fluent English and Chinese.
Oct 19, 2016

When a mine leaks heavy metals into drinking water supply in China, or when school children fall sick due to contaminated soil, or when a factory exceeds its pollution, whose job is it to respond? Kristen McDonald met with grassroots environmental groups around China to understand the challenges communities face, and the help that NGOs provide to local environmental protection bureaus.

Feb 25, 2015

Increasingly, China's local environmental groups are finding themselves well positioned to ensure governmental support for environmental improvement and accountability. The national government of China has signaled a green light for citizen groups to take an active part in forging a more sustainable development path, but local governments are still unsure of the role that civil society groups can and will play in improving China's environment.