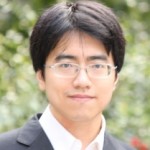 Taisu Zhang
Associate Professor, Duke University School of Law
Taisu Zhang is Associate Professor at Duke University School of Law.
Jan 03, 2017

U.S. President-elect Donald Trump criticized China on Monday, saying it had benefited from its economic ties with the United States but would not help control North Korea.

Apr 29, 2015

When Jennifer Pan and Yiqing Xu posted their new paper, "China's Ideological Spectrum," recently, it marked the first time that anyone has provided large-scale empirical data on the ideological shifts and trends within the Chinese population.