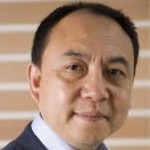 Qi Ye
Professor, Tsinghua University
Qi Ye is Professor of School of Public Policy Management of Tsinghua University, Senior Fellow at Brookings Institution and Director of Brookings Tsinghua Center for Public Policy.
Jan 19, 2015

Chinese economists predict growth will slow from the current 7% to around 5% if China's carbon emissions are to peak in 2030. Qi Ye posits that climate commitment may constrain China's economic growth rate, but not necessarily growth itself.

Jan 15, 2015

The ambitious U.S-China climate proposal created new emissions standards for U.S. domestic power plants, which will reshape the power sector on a state-by-state basis. The 30% CO2 reduction target is significant and won't come without domestic political opposition, despite the EU's even more ambitious targets.