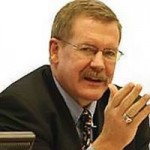 Greg Austin
Professorial Fellow at the EastWest Institute
Greg Austin is a Professorial Fellow at the EastWest Institute.
May 26, 2015

Is it government policy in China to pass on commercial secrets obtained via cyberespionage to civil sector firms?

Sep 04, 2014

For all of the techno-nationalist heat coming out of both the United States and China on issues of cybersecurity in recent years, the two countries have in the main benefited from a deepening relationship in the ICT sector for more than two decades.

Jul 07, 2014

As China and the U.S. prepare for the Strategic and Economic Dialogue in Beijing from 9-10 July 2014, they might usefully conduct a mutual stock taking of what went so horribly wrong in their cyber relationship and what they can do to redress it.

Jan 20, 2014

Much of 20th Century history unfolded in the shadow of events in Europe in August 1914, when major powers in Europe launched one of the most savage wars the world had seen. August 2014 is looking very different. writes Greg Austin.

Dec 06, 2013

Analyzing the 1943 Cairo Declaration, Greg Austin argues that China's outrage over the disputed islands is rooted in this document signed 70 years ago and driving its foreign policy. To ease tensions in the region, both China and Japan must come to the table and acknowledge the high emotions surrounding the dispute.

Dec 02, 2013

Hostile rhetoric and military contingency planning by China and Japan in respect of the Senkaku/Diaoyu islands are at their most serious since the dispute first surfaced in 1970. It may be said that diplomacy has worked well so far in avoiding serious conflict, but in fact the two countries were never interested in any action that had a high risk of provoking a military confrontation. However, times have changed, writes Greg Austin.

Aug 06, 2013

The United States is racing for the technological frontier in military and intelligence uses of cyber space. It is ahead of all others, and has mobilized massive non-military assets and private contractors in that effort.

Feb 21, 2013

Although some Obama advisers have recommended harsh action in response to China's cyberespionage, China is unlikely to respond as they may hope. The spying will continue and probably intensify regardless of what the United States does.