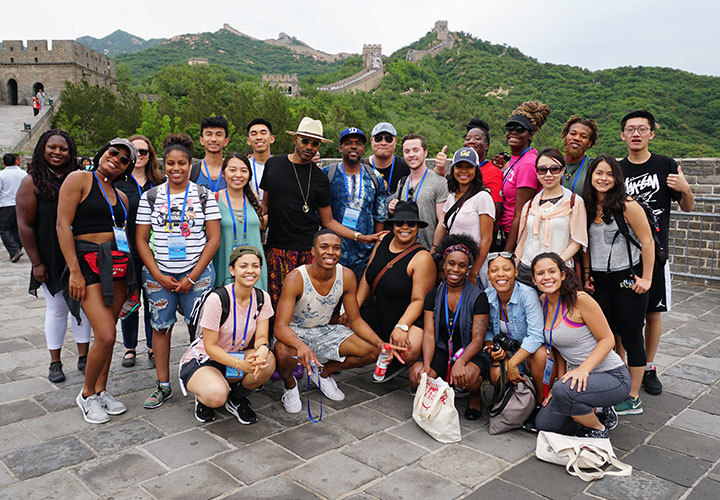 "This is unbelievable." I thought to myself. "I'm…I'm really in China."
The temperature changed from a comfortable seventy in the airplane to a humid blaze of ninety. I looked around with absolute amazement. I only heard Mandarin voices, as the Peralta delegates – my twenty best friends or worst enemies for the next two weeks – drew stares from everyone around us. I could not believe that I was actually here, and this fact did not fully sink in until I laid in bed for my first night in China.
Did I make a mistake by coming here? Was this trip a good idea? Should I use the restroom? I rested my thoughts and prepared for bed.
The China-United States Exchange Foundation partnered up with the Peralta Community College District to host this study abroad trip. The primary focus of this study abroad trip was to improve the delegates' understanding of Chinese culture, history, and modernity. The foundation provided nineteen scholarships for nineteen delegates across the four Peralta campuses, and I was lucky enough to be one of them.
Lucky. I kept this word in mind, as I headed out to tackle my first day of China.
The first stop was Beijing. Each day in Beijing could be split into two halves. The first half of the day consisted of lectures and workshops. The professors from the Beijing Language and Culture University (BLCU) focused on the cultural and historical aspects of China. Some of the professors taught solely based on their PowerPoints, while other professors utilized auditory, vocal, and tactile learning. Every professor had his or her own style, but every professor taught extremely well nonetheless. These lectures featured Chinese cuisine, ancient folklore, Mandarin, and much more. The workshops – ranging from tea ceremonies to martial arts – provided hands-on learning and reinforced our knowledge in cultural practices. The second half of the day consisted of company tours and site visits. My fellow delegates and I had the wonderful opportunity to see some of the world's finest sites like the Great Wall of China, The Forbidden City, and the Confucian Temple.
The second stop was Shanghai. The daily routine remained relatively similar to our routine in Beijing, though some things changed. For one, the professors from Fudan University focused on modern aspects such as China's economy and its economic relationship with the world. For two, we visited modern sites rather than historical sites. These modern sites included The Oriental Pearl Tower (Imagine the Space Needle in Seattle), Yuyuan Bazaar, and the Shanghai Stock Exchange.
Throughout the trip, my fellow delegates and I also had the chance to meet so many remarkable people. Our hosts from the China-United States Exchange foundation provided us with great professors, campuses, and lectures. The local students graciously gave up their time and hosted events, games, and performances. Our tour guides made us laugh, made us smile, and most notably…made us miss the China experience.
It felt surreal to attend school in China. This new environment made me more engaged in my learning. Back in the states, I would get bored of learning, because everything always felt the same. However, this simple twist in environment was enough to spark my curiosity. Everything was new. The campus, the lectures, the professors, and the experience. Sure…I had an itinerary to follow, but it did not prepare me for the new friendships, the new styles of teaching, or the new selections at the dining hall. I wanted to experience everything that China had to offer.
I certainly made the most of every moment. From morning to night, from Beijing to Shanghai, I made sure to savor every moment. I said yes to every ounce of street food, even though my sensitive American stomach said no. I watched as college students, mall workers, and everyday people flooded the nights in search of cheap grub and cheap thrills. Mandarin screaming everywhere, dodging traffic like dodging bullets, exploring aimlessly into the night, partying my heart out, adventuring with strangers turned friends, stuffing my face with spicy meat skewers, and ending the day with a tasty drink that I might never know how to pronounce. Then…wake up for a whole new adventure.
I had many reservations even before the trip started. I had not known anyone prior to the trip, so I essentially had to share this experience with a group of strangers from the four Peralta schools. However, the term "strangers" quickly became "friends." My fellow delegates and I spent so much time together. We ate strange dishes like chicken feet, together. We laughed at the funniest – and lamest – jokes, together. Most importantly, we experienced a life-changing trip, together. We had our share of roadblocks such as homesickness, smog, and upset tummies. Nevertheless, we did not let that stop us from seeing China and everything it had to offer.
As a personal note, I actually received an important lesson from my fellow delegates. They taught me to…love myself. As an ethnic minority in America, I had difficulty embracing my identity and being comfortable in my own skin. Though how could I not? Especially when American kept telling everyone that "White" was the way to go. I had the opportunity to learn more about the African American culture and perspective from my fellow delegates. They always found connections between their culture and Chinese culture, and never did they seem ashamed to embrace their culture or their skin color. They loved themselves, and they had every right to. I had every right to love myself as well, so why should I be ashamed of myself? There were other people around the world that see the beauty in people like me, and I should recognize this beauty as well. However, I would have never learned this had I not gone on this trip.
I had originally applied for this scholarship, because I thought it would be a once-in-a-lifetime experience. Fortunately, it was. The friends I made, the culture I experienced, and the lessons I learned…they were all part of an experience that I would never be able to replicate.
I have never been on a more life-changing experience, and I believe everyone in the world should take an opportunity like this at least once in their lives. If you are ever thinking twice about leaving the states for the first time, I highly recommend you take the leap and just do it.
Life's an adventure. Make it a memorable one.
(Special thanks to Congresswoman Barbara Lee, Yashica Crawford, Anna Cortesio, Lasana Hotep, the Peralta College Community District, and the China-United States Exchange Foundation for making all of this possible.)