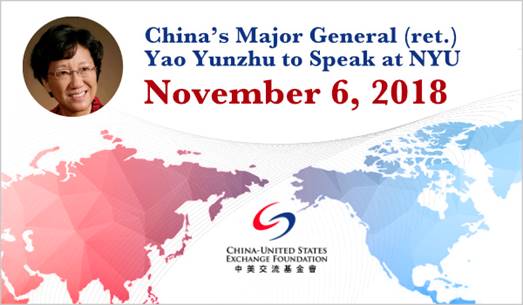 Dr Yao Yunzhu, retired Major General in the People's Liberation Army, is scheduled to speak at New York University at 3 pm, November 6 (Tuesday), 2018.
General Yao will speak on the military relations between China and the US, and then engage in a dialogue with Daniel Russel, former Assistant Secretary of State for East Asian and Pacific Affairs (2013-2017) and Vice President, International Security and Diplomacy, at the Asia Society, and Jeffrey Lehman, Vice Chancellor of NYU Shanghai.
All are welcome.
Date: Tuesday, November 6, 2018
Time: 3:00 –4:30 PM
Location: The Rosenthal Pavilion,
The Kimmel Center,
60 Washington Square South,
New York
Please contact Ms. Wendy Weng (wendy.weng@cusef.org.hk) for registration by Sunday, November 4th.