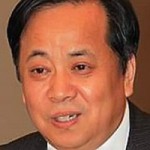 Liu Jiangyong
Vice Director, Tsinghua University
Liu Jiangyong is Vice Director of the Institute of Contemporary International Relations at Qinghua University.
Apr 28, 2021

The United States and Japan are interfering in domestic affairs, and they have formed an ideological alliance in which they believe China must be confronted. The U.S. should reconsider this as it seeks allies among unrepentant Japanese politicians. After sowing the wind, what comes next is the whirlwind.

Sep 11, 2013

Following a meeting of the world's top leaders at the G-20 Summit in St. Petersburg, Russia, Liu Jiangyong examines Japan's relations between China and the Republic of Korea and notes that several factors contribute to the historical departure Prime Minister Shinzo Abe's current administration has taken compared to previous administrations.

Jul 03, 2013

Critiquing Japanese Prime Minister Shinzo Abe's interview in Foreign Affairs, Liu Jiangyong dissects the differences between Japan's Yasukuni Shrine, embroiled in controversy over its militaristic history, and the United States' Arlington National Cemetery.

Jun 24, 2013

Liu Jiangyong writes that the Sino-Japanese dispute over the sovereignty of the Diaoyu Islands has entered a new stage; and disputes Japanese claims, saying that China will not shelve the issue unilaterally.

May 29, 2013

The Japanese constitution is at a crossroads, writes Liu Jiangyong. A revision would not only affect the Sino-Japanese relationship, but the Japan-U.S. alliance will also face new options.

May 15, 2013

From nationalizing disputed territory to visiting controversial war shrines and justifying the egregious treatment of women in wartime, aggressive actions and over-the-top statements by Japanese politicians will only exacerbate future problems between China and Japan.

Mar 11, 2013

After World War II, its relations with the United States have been at the core of Japan's foreign and security policies. However, there have been two different opinions within the ruling Liberal Democratic Party on the relationship.

Jan 09, 2013

After staying in power for only three years, Japan's Democratic Party lost the parliament election to the Liberal Democratic Party. The Yoshihiko Noda cabinet,

Sep 10, 2012

Recent actions by Japan and the United States risk enflaming an already tense situation surrounding the Diaoyu Islands. Given historical documentation and legal authority derived from international law, China's claim to the Diaoyu Islands must be respected.