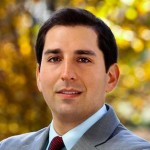 Joel Backaler
Associate Vice President, Frontier Strategy Group
Joel Backaler is Associate Vice President at Frontier Strategy Group and Author of China Goes West: Everything You Need to Know About Chinese Companies Going Global (Palgrave Macmillan, 2014). He is also founder of TheChinaObserver.com, an independent platform designed to educate and engage multinational corporations, governments and other key stakeholders in the area of Chinese outbound investment. Backaler, a fluent Mandarin-speaker and former Fulbright Scholar, has worked and lived in Beijing, Shanghai, Taipei and Singapore. Follow him on Twitter @JoelBackaler.
Jul 09, 2015

The rapid development of China-U.S. e-commerce is challenging traditional assumptions about how international business is conducted, but there still is a lack of understanding among foreign brands and retailers about what cross-border e-commerce is and how they can leverage it to sell their products to Chinese consumers.

Nov 28, 2014

While many of China's largest brands – Haier, Huawei and Xiaomi – have not yet become household names, Joel Backaler describes how China's domestic market is changing and the companies that are focusing on developing their brand internationally.