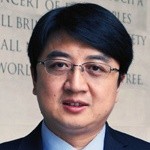 Zheng Wang
Director of Center for Peace and Conflict Studies
Zheng Wang is the Director of the Center for Peace and Conflict Studies (CPCS) at Seton Hall University in New Jersey and a Global Fellow at the Woodrow Wilson International Center for Scholars
Apr 16, 2015

70 years after the end of WWII, the ghost of historical conflict still haunts international relationships in East Asia. Historic consciousness, particularly regarding the sense of humiliation relating to the war experience, has been the crux of the nationalism experienced by these nations in East Asia, and used by elites as tools for political mobilization and other purposes. People must understand the importance the role of history education and social narrative play in international relations.

Mar 17, 2014

As Senator Max Baucus prepares to transition to his new post as U.S. Ambassador to China, Dr. Zheng Wang provides three suggestions for the incoming ambassador based on the lessons drawn from his two predecessors, Jon Huntsman and Gary Locke.

Dec 27, 2013

China's announcement of its Air Defense Identification Zone (ADIZ) surprised the world. And the strong response from the international community surprised China.

Jul 02, 2013

Are we one of the blind men when we try to explain China? We see only part of it but claim that to be the truth about China. The field of China studies needs revisions to meet challenges to understanding such a large and fast-changing country, especially in the following three aspects: reliance on trans-Atlantic thought to analyze China; failure to update with changes; and lack of integration.

Dec 01, 2012

As the situation over the Diaoyu/Senkaku Islands continues, it is urgent that both countries find a way to exit this deadlock and avoid a possible escalation of conflict.