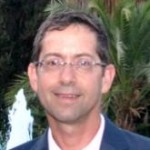 Gal Luft
Co-Director, Institute for the Analysis of Global Security
Gal Luft is Co-Director at the Institute for the Analysis of Global Security. He is Senior Adviser to the United States Energy Security Council.
Aug 17, 2015

China's decision to hold a military parade to commemorate the 70th anniversary of the WWII is putting Washington again in a position where it can reconcile the wartime animosity between China and Japan.

Jul 25, 2014

A number of lessons from World War I carry great importance for China's future as it becomes a global power, writes Gal Luft.