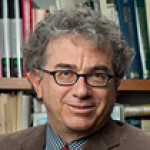 Jeffrey Frankel
Professor, Harvard University's Kennedy School of Government
Jeffrey A. Frankel is James W. Harpel Professor of Capital Formation and Growth. He directs the Program in International Finance and Macroeconomics at the National Bureau of Economic Research, where he is also on the Business Cycle Dating Committee, which
Sep 11 , 2017

Trump imagines that he can use trade threats against China as "bargaining chips" to secure its help in dealing with North Korea. If so, he is on the wrong track. The U.S. and South Korea should be prepared to pause the deployment of THAAD (the Terminal High Altitude Area Defense system) as a short-term gesture in return for China enacting and enforcing full sanctions.

Sep 10 , 2015

The lens of government intervention in China has led foreign observers to misinterpret some of the most important developments this year in the foreign exchange market and the stock market.

May 14 , 2015

Comparing the world's two largest economies by "who's on top" analysis is the wrong way view U.S. and Chinese leadership, and can even be a barrier to sensible policy, like IMF quota reform. The rules of the game now require a larger and more equal share in the governance of the international institutions.

Apr 09 , 2015

One of the few things the U.S. Congress agrees upon is the problem of "currency manipulation," especially on the part of China. The concepts of manipulation, or unfair undervaluation, are exceedingly hard to pin down from an economic viewpoint. It is true that China runs a bilateral surplus with the U.S., but as Jeffrey Frankel shows, this has little meaning for the exchange rate and competitiveness of their exports.