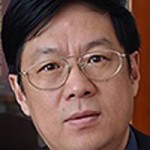 Jin Bei
Professor and Editor-in-Chief, China Economist
Prof. JIN Bei is the director of Institute of Industrial Economics, Chinese Academy of Social Sciences, and the Editor-in-Chief of China Economist.
Aug 27, 2015

China has entered into a crucial period of comprehensive deepening of reform. Reform carried out in some areas has already addressed quite a few chronic problems. Other major reform initiatives are under deliberation as well.

Jan 12, 2015

"New normal" has become a buzzword in China since the second half of 2014. At the APEC CEO Summit on November 10, 2014, President Xi characterized China's "new normal" as slower growth, economic restructuring and innovation-driven growth.

Oct 28, 2013

Some scholars have recently argued that "China has surpassed the United States and become the top industrialized country". However, this claim is not supported by objective assessments of significant facts. By certain criteria, China has exceeded the United States in the scale of manufacturing. In terms of competitiveness, however, China is still far behind, writes Jin Bei.