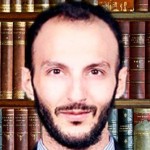 Vasilis Trigkas
Onassis Visiting Scholar, Columbia University
Vasilis Trigkas is Onassis Visiting Scholar at Columbia University, and Young Leader & Non. Res. Handa Fellow at CSIS-Pacific Forum.
May 04 , 2017

As the new U.S. administration has undercut its commitments to multilateral institutions and challenged free trade orthodoxy, China has upgraded its image as a pillar of globalization and doubled down on its Belt and Road Initiative. Amid the ongoing uncertainty for the future of globalization, it is thus possible to understand China's BRI as part of a formative "Silk Road system," an emerging economic substructure – "Sino-centric" yet symbiotic to the U.S.-shaped Bretton Woods.

Apr 03 , 2017

Could Trump like Richard Nixon "echo like thunder" by unilaterally announcing a high tariff regime to balance U.S. trade deficit and break the WTO system? While some of Trump's advisors would wave their heads affirmatively, the institutional and commercial leverage of the U.S today is much inferior from Nixon's America that bended Europeans to follow her unilateral demands.

Feb 13 , 2017

However histrionic the demagogic oratory of President Trump has been, his strategy to revitalize American manufacturing will be better served by exporting more to China, not decreasing Chinese imports. China's gigantic market has thus become the golden apple of discord in an accelerating geo-economic competition between the United States and Germany, which already enjoys significant production networks within the Middle Kingdom. Yet unlike the days of the Boxer Revolution and the alliance of eight Western nations, China can this time choose her major commercial partners.

Dec 14 , 2016

Strategic surprise and a cultivated image of irrationality is a classical strategy in a game of brinkmanship. One side highlights its willingness to "dance too close" to the cliff's edge and maximize risk, leading its opposition into eventual retreat. Trumps' discussion with Tsai Ing-wen must be seen through the prism or feigned irrationality. Trump, a studious businessman, may have considered the strategies of past presidents and found the "Madman" hypothesis compelling for his ultimate goal: to leverage Chinese adamancy over core national interests like the Taiwan issue into an agreement over trade and jobs – his existential political pledge.

Mar 07 , 2016

China's stock market turmoil has caused pundits to conclude that China's economy won't face a soft landing. Yet the macroeconomic fundamentals of the Chinese economy continue to be auspicious.

Jan 26 , 2016

President Barack Obama's last State of the Union speech sought to cement his personal achievements by stressing his contribution to the recovery of the United States post-2008, and the U.S. position of excellence compared to China.

Oct 22 , 2015

Based on what we know from leaks, Transatlantic and Pacific trade deals disproportionally empower corporations. Instead of trade regionalism driven by corporatism and overrated security imperatives, the EU, the USA and China, should join forces and with a trilateral trade commission shape a vast economic space from the Atlantic to the Pacific Ocean.

Sep 08 , 2015

One of the major challenges for China's leadership lies in enacting the rule of law by borrowing from Western principles while preserving China's self-identity embodied in part in the Confucian ideology of the rule of virtue.

Jul 16 , 2015

The Lincoln Memorial in Washington D.C. carries deep symbolism, both in the U.S. political heritage, and classical Greek aesthetics. Vasilis Trigkas proposes that this monument be a site for President Xi and Obama to deliver an alternative narrative for China-U.S. relations.

Apr 30 , 2015

The term "Chimerica," is liberal theorizing that assumes the more economically interdependent the U.S. and China become, the more peaceful the hegemonic transition of power will be. Realists theorize that there is ongoing comprehensive balancing, from trade to militarization, and free trade alone will not solve deep ideological and system differences. Improved relations require increased participation and less inequality on both sides of the Pacific.