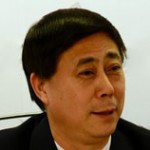 Zhang Junshe
Researcher, PLA Naval Military Academic Research Institute
Zhang Junshe is a researcher at the People's Liberation Army Naval Military Academic Research Institute.
Sep 07, 2015

President Xi Jinping announced China would cut the number of its troops by 300,000 while addressing the commemoration of the 70th anniversary of WWII on Sept. 3. The large troop cut in the People's Liberation Army, the 11th of its kind since the founding of New China in 1949, shows the country's sincerity and determination to follow a peaceful development path.

Nov 24, 2014

Zhang Junshe describes how the establishment of mutual trust mechanisms between China and the U.S.– through military leader exchanges and joint military exercises – can help both sides to know each other's strategic intentions and reduce the possibilities of misunderstanding and misjudgment and thus lower the risks of military friction.

Jul 29, 2014

Usni.org, the official website of US Naval Institute, has created a controversy by posting an article that says, "China sends uninvited spy ship to Rimpac" (Rim of the Pacific Exercise), writes Zhang Junshe.

Feb 18, 2014

Zhang Junshe, a senior colonel for the People's Liberation Army Navy, lays out four features of Japan's nationalist turn and argues that anti-Chinese sentiment will quickly shift to anti-American rhetoric if not kept in check.

Dec 03, 2013

The setup of an Air Defense Identification Zone in China's East China Sea has caused tensions with Japan and the U.S. However, the setting up of such a zone is not outside of China's right as an international state. The U.S. and Japan, who have AIDZ of their own should respect this as they work with China to reduce tensions.

Apr 02, 2013

Fire-control radar row is Tokyo's attempt to get more overt outside support and push for constitutional change.