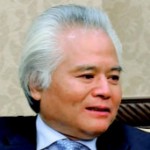 Wu Shicun
President, China Institute of South China Sea Studies
Wu Shicun, President, China Institute of South China Sea Studies.
Dec 23, 2020

An analysis of the current situation and its possible evolution under the Biden administration suggests that the U.S. will attempt to consolidate its influence over littoral states and attempt to crash the China-led COC negotiations.

Dec 15, 2020

Recently, A Legal Critique of the Award of the Arbitral Tribunal in the Matter of the South China Sea Arbitration (hereinafter referred to as the Critique) was jointly completed by National Institute for South China Sea Studies (NISCSS) and FIETTA LLP.

Jul 20, 2020

The influence of the United States can be seen in virtually every move of countries in the region that have a stake. China needs to promote its role as an anchor of peace and stability.

Jul 27, 2016

No country is willing to accept an international judicial judgment or arbitration award against its unwillingness, especially when such judgment is related to a major political issue that concerns the state. Thus, China is correct in its decision of non-acceptance in allowing a third party mechanism to determine a territorial dispute and maritime delimitation.

May 12, 2016

The future direction of trend would very much depend on the perceptions and choices of the parties involved. If they choose to cooperate, they may all win. If they choose to confront each other, they may only head for impasse or even conflict and no one can benefit totally.

Jun 25, 2015

China-U.S. competition and rivalry in the South China Sea is structural, strategic, and irreconcilable. Preventing conflicts there from damaging bilateral ties is a practical imperative for decision-makers in both countries.

Mar 06, 2014

China has never regarded the South China Sea in its totality as China's territorial waters. Nor will China seek to turn the South China Sea into a "Chinese lake", writes Wu Shicun.

May 05, 2012

Starting on April 10th, China and the Philippines became embroiled in a standoff in disputed waters in the South China Sea. The standoff occurred when eight Chinese fishing boats, while taking refuge in a lagoon near Huangyan Island due to harsh weather, were harassed by the Philippine largest warship Gregorio del Pilar.