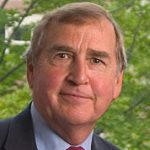 Graham Allison
Former Director, Harvard Kennedy School's Belfer Center for Science and International Affairs
Graham Allison is Professor and former director of the Harvard Kennedy School's Belfer Center for Science and International Affairs.
Mar 29, 2019

The competing rivals are vulnerable to extraneous actions unrelated to the rivalry, by some third party, unintended by either of the principal rivals, which nonetheless one or the other feels obliged to respond to, setting up a spiral that often ends in a conflict, even a catastrophic conflict.

Jul 12, 2016

In ignoring an upcoming verdict on the South China Sea, Beijing is following well-established precedent by great powers.