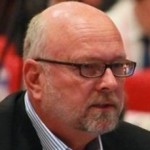 Nathan Gardels
Editor-in-chief, THEWORLDPOST
Nathan Gardels is Editor-in-Chief of THEWORLDPOST and a senior advisor to the Nicolas Berggruen Institute and the Think Long Committee for California. He is co-author with Nicolas Berggruen of "Intelligent Governance for the 21st Century: A Middle Way Bet
Jul 04, 2017

While China barrels ahead building a new Silk Road for the 21st century, abandoned zones in the West reach a dead end.

Aug 14, 2015

Seven decades after it surrendered to the Allied Forces, it is time for Japan to re-Asianize and come into its own as a fully sovereign nation.

Apr 10, 2015

Zbigniew Brzezinski is one of America's leading strategic thinkers. He was national security adviser to President Jimmy Carter at the time of the Iranian Revolution in 1979 and during the ensuing hostage crisis. He spoke with The WorldPost about the recently negotiated agreement with Iran on its nuclear program.

Mar 31, 2015

In this premiere episode of a new Chinese Youku series produced by Guancha.cn, Shanghai scholar/entrepreneur Eric X. Li talks with political scientist Francis Fukuyama about his latest book: "Political Order and Political Decay."

Mar 17, 2015

In Western media, the National People's Congress -- China's legislative body which just ended its annual three week session -- is perfunctorily conjoined with the phrase "rubber stamp." This characterization is less and less true every year and does a disservice to understanding the most significant historic shift taking place in China today: the long march toward "rule according to law" from administrative fiat.

Dec 23, 2014

China's leaders need to look hard at the "Chinese Dream" they are trying to realize for their country and decide if that dream rests more on cooperation at this critical moment with the world's other largest economy, the United States, or on an absurd and outdated allegiance to the bizarre and historically obsolete feudal regime of the Kim family in Pyongyang.

Dec 15, 2014

China has two key challenges in the years ahead. The first is to build a new, global rules-based system with the other major world power, the United States, that supplants the post-WWII order.

Nov 22, 2014

Dialogue between Henry Kissinger and Fu Ying, which took place during a recent visit she made to the United States. Its candor and tone offer valuable insights into the thinking of these two important figures on the foreign policy of their countries.

Nov 11, 2014

In Beijing on Monday, U.S. President Barack Obama called on China to be a "partner in underwriting the international order" instead of "undermining" it.

Oct 21, 2014

As the leaders of the umbrella movement sit down to negotiate with Hong Kong authorities after weeks of street protests, the big question is whether the two sides can find a compromise that meets both Beijing's concerns about stable and efficient governance on the one hand, and citizens' concerns about genuine, instead of sham, democracy on the other.