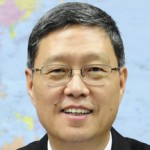 He Yafei
former Vice Minister, Ministry of Foreign Affairs
He Yafei is former vice minister of the Overseas Chinese Affairs Office of the State Council, and former vice minister at the Chinese Ministry of Foreign Affairs.
Apr 26 , 2017

He Yafei discusses the "100-day plan" that came out of the Xi-Trump summit at Mar-a-Lago and proposes a "2+1 plan" to reduce the U.S. trade deficit with China.

Apr 21 , 2017

China will not allow war at its doorstep, claimed He Yafei, a former top Chinese diplomat, during an interview on Korean Peninsula crisis in Beijing on April 15.

Apr 12 , 2017

Mar-a-Lago summit has offered predictability and sense of direction for the bilateral ties.

Mar 20 , 2017

Recent nationalistic trends suggest not that globalization is dead but that it has entered a new phase. It is overly simplistic to define the momentum for change as "anti-globalization". China now needs to work harder than ever in order to optimize and even lead globalization.

Mar 12 , 2017

Common strategic interests of both countries require the U.S. and China to contribute to a new security framework in Asia-Pacific, by working together towards a better security arrangement for the region. Over-reliance on military alliances targeting third parties cannot replace efforts to provide adequate security for all.

Mar 03 , 2017

Economic cooperation and trade frictions will probably simultaneously increase as the new American government's "buy American and hire American" focus as it seeks greater economic benefits with its trading partners. But there are many areas where the interests of China and the US converge, which the leaders of both countries clearly appreciate.

Feb 20 , 2017

Major powers need to work together to push globalization forward in the right direction, with more equitable benefits for people in every country. Any action to gain geopolitical advantage at the expense of another major power will not only bring risks to global security but damage prospects for world economic growth.

Jan 25 , 2017

He Yafei, a former top Chinese diplomat, dissects globalism under attack and China's pursuit of a growing leadership role in global governance. Mr. He also offers his insights on what China can do to manage its ties with the Uwith the Trump administration.

Jan 23 , 2017

What we are witnessing today is not "the toss out of globalization" or "de-globalization", but rather a new era or phase of globalization or "re-globalization" wherein greater and more complicated challenges become the order of the day. Therefore we need concerted efforts more than ever before to ascertain the big trends as well as individual difficulties and work out consensus and solutions for collective actions to "make globalization great again". China has no option but to be in the fore front of globalization and global governance.