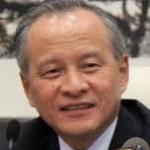 Cui Tiankai
China's ambassador to the United States
Aug 27 , 2015

Even on controversial issues, cooperation—instead of confrontation—is key to finding solutions.

Jun 09 , 2012

China and the United States are located on the two sides of the Pacific Ocean. The two countries have more overlapping interests and more frequent interactions

Sep 07 , 2011

Vice Minister Cui Tiankai talks about U.S. Vice President Joe Biden's visit and other China-U.S. Relations issues.