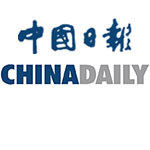 Oct 31 , 2017

US President Donald Trump's first state visit to China, coming at a "historical moment" after a key Party congress in Beijing, will be a successful trip with si

Oct 03 , 2017

President Xi Jinping on Monday sent a condolence message to his US counterpart, Donald Trump, over the mass shooting in Las Vegas in the US state of Nevada.The

May 26 , 2017

Beijing strongly condemned Washington on Thursday over a US Navy warship sailing close to the Nansha Islands without permission, and warned that such action could damage the peace and stability of the South China Sea.

Apr 27 , 2017

Rather than easing tensions, deploying the missile defense system undermines trust among all parties, China's top diplomat in the U.S. says.

Dec 09 , 2016

On December 7, 2016, in Washington, D.C., Attorney General Loretta E. Lynch and Department of Homeland Security Secretary Jeh Johnson, together with Chinese State Councilor and Minister of the Ministry of Public Security Guo Shengkun, co-chaired the third US-China High-Level Joint Dialogue on Cybercrime and Related Issues.

Jul 12 , 2016

But having made plenty of diplomatic, political and military efforts to hype up the arbitration during the past three years, the US will not sit idle while China tries to safeguard its lawful rights. Such are their differences on the South China Sea issue that many fear they could lead to a military conflict.

Jun 21 , 2016

Diplomats from countries involved in the stalled Six-Party Talks on the Korean nuclear issue are expected to convene at a gathering in Beijing this week. Experts said that although it is not clear if the six nations will have in-depth contacts or consultations during the meeting, the gathering gives hope for a resumption of the talks.

May 31 , 2016

The Asian Infrastructure Investment Bank (AIIB) will grow its membership to nearly 100 countries and regions by the end of the year, making it a truly international financial institution with the mission of promoting multilateral benefits for all members, AIIB President Jin Liqun said on Tuesday.

Apr 26 , 2016

China accused the US on Monday of "hyping up" recent military flights around a Chinese island in the South China Sea.

Mar 01 , 2016

President Xi Jinping will meet with US President Barack Obama soon, it was disclosed on Monday.