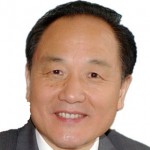 Wu Sike
Member on Foreign Affairs Committee, CPPCC
Wu Sike is a member on the Foreign Affairs Committee of the Chinese People's Political Consultative Conference and member on the Foreign Policy Consulting Committee of the Ministry of Foreign Affairs.
Dec 18, 2017

America's decision to move its embassy to Jerusalem is a reckless attempt to distract from its domestic problems.

Jun 22, 2017

The two Koreas and other relevant parties should focus their concern on peninsular, Asian and global peace and return to the negotiation table to create a new peace regime on "dual tracks". This will help the peninsula, Northeast Asia and the whole Asian region realize permanent stability and peaceful development.

Apr 10, 2017

The US Secretary of State's visit to Beijing, and his meetings with the Chinese foreign minister, ended with a pledges by both to resolutely advocate denuclearization of the Peninsula, strictly implement UN resolutions and strive for a peaceful resolution. That realistic assessment by both sides is a good omen for more collaboration between Washington and Beijing.

Jan 12, 2017

China and the US are the twin engines of global economy growth. Bilateral trade binds the two economies together, and cooperation is the only reasonable choice for both countries. Trade frictions are natural in a constantly expanding relationship that extends into other sectors in the globalization process.

Dec 14, 2016

War displaces people and breeds refugee crises. For the Middle East, which has long been plagued by continuing violence and conflicts, it is urgent to end the wars and safeguard the peace. China-US cooperation can play an important role to facilitate post-war reconstruction and create a survivable environment for local residents, so that violence and conflict will not occur again.

Nov 15, 2016

The fine momentum of deepening China-US cooperation in various areas will inevitably extend into the upcoming new US presidency. Donald Trump and his team, who have won the election under the banner of "Make America Great Again", should see that joining hands with China in the Asia-Pacific will result in a win-win scenario for both counties.

Nov 04, 2016

As tensions escalate, the players will eventually go against US national interests, with potential for conflict and instability. The only viable path to peace and security is deepening strategic cooperation and pursuing common security across the region.

Oct 14, 2016

Economic and trade cooperation plays a prominent role in the global economic governance system. With both countries facing new economic environments and opportunities, it's extremely importance to deepen cooperation for their own benefits and for overall global prosperity.

Aug 11, 2016

Despite US claims that China has too many restrictions on investment, and a US election year that's elevated anti-trade forces, both countries have every reason to move quickly to complete a bilateral trade agreement.