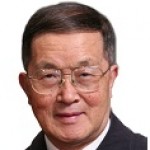 Yu Sui
Professor, China Center for Contemporary World Studies
Yu Sui is a professor at the China Center for Contemporary World Studies.
May 05, 2014

Joseph Nye, a professor at Harvard University, remarked on Sino-US relations during an interview with Japan's Kyodo News. According to Yu Sui, Professor Nye's stance on the United State's position on the Diaoyu Islands and China's current diplomatic policies sparked controversy as Professor Nye's viewpoint is viewed as ethnocentric and ignorant of China's history.

Apr 09, 2014

Yu Sui hopes that Chuck Hagel's current trip in China can provide positive momentum for the formulation of the new-type major-country relationship between China and the United States.

Mar 28, 2014

Following the crisis in Ukraine, Russia-US relations will have to go through a readjustment, relaxation and gradual improvement, writes Yu Sui.

Feb 17, 2014

The 2014 Olympic Games at Sochi, Russia could stand as an important moment for major-power relations in the World. The most expensive games in history could have a historical impact in International Relations for Russia, China and the US.

Dec 20, 2013

Looking back on the past year, Yu Sui analyzes several geopolitical events and the major interactions between China, the United States and Russia to determine that more positive overtures are needed to construct collaborative relations between the three leading, global powers.

Sep 19, 2013

During President Xi Jinping's September trip to the G20 summit, he also visited four Central Asian countries to discuss comprehensive strategic partnerships with China. Yu Sui discusses the possible ramifications of these visits and other global developments on the evolving China-US-Russia relationship.

Jul 15, 2013

PRISM-gate will have a limited influence on Russia-US relations, says Yu Sui. However, no matter how the stalemate of the Snowden incident is resolved, and how Russia will handle it in the end, US Secretary of State Kerry has said that US-Russia relations will be affected.

Jun 28, 2013

With a new type of bilateral relationship, China and the US should achieve trust in politics, economic complementarity, cultural exchange, military interaction and diplomatic consultation, writes Yu Sui.

Mar 23, 2013

Xi Jinping has chosen Moscow as the destination for his first state visit in his new capacity as the Chinese president, a decision that has caught the attention of the international community. Some people see it as a readily understandable decision, while others regard it with unease.