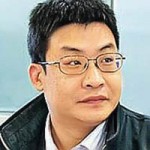 Zhu Songling
Professor, Beijing Union University
Zhu Songling is a Professor at the Institute of Taiwan Studies in Beijing Union University.
Jun 02, 2015

The governing parties and authorities across the Taiwan Straits are both worried about whether peaceful development will continue to prevail in cross-Straits relations in the coming two years. The potential disruption that Tsai Ing-wen's election may cause can be averted with a strong commitment to the 1992 Consensus.

Jan 14, 2015

The KMT and the DPP will soon unveil candidates for the top executive job in Taiwan, and politics will revolve around the 2016 election. Both Beijing and Washington are hoping that the people of Taiwan will elect a leader that supports stable cross-strait relations and peace and stability in the Asia-Pacific.

Jun 30, 2014

Consultation and negotiation are indispensable for the mainland's ideal of solving the Taiwan issue through peaceful means, writes Zhu Songling.

Feb 21, 2014

The meeting between Zhang Zhijun and Wang Yu-chi could benefit cross-straits relations by promoting peace and open communication, but Zhu Songling also brings into question America's involvement and how improving China-U.S. relations is crucial to maintaining this peace.