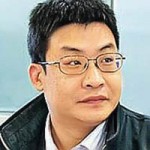 Zhu Songling
Professor, Beijing Union University
Zhu Songling is a Professor at the Institute of Taiwan Studies in Beijing Union University.
May 15, 2018

As legal procedures are cumbersome and difficult to reverse, if and when differences among the key stakeholders escalate and come to a head, the only option left for China would be to change the status quo, so that the Taiwan Travel Act is no longer applicable.

Nov 07, 2017

The Taiwan Travel Act will harm both China's relations with the US and with Taiwan. It may also forfeit the possibility of peaceful reunification.

Jun 12, 2017

If the DPP continues to create obstacles for cross-straits relations out of its selfish partisan interests, there is ample reason for us to feel concerned about the state of mainland-Taiwan relations in the next three years.

Jan 21, 2017

Cross-Strait relations in 2017 are only a part of the changing Sino-US relationship and reorganization of the global order. It is in the interests of both the US and China, as well as the interests of Taiwan, to maintain the status quo, which must be recognized anew by Taipei and Washington.

Nov 15, 2016

Consolidation and development of KMT-CPC ties and stability of forces recognizing the 1992 Consensus within KMT are critical for cross-Strait relations to enjoy peace and continuity. It remains to be seen whether Hu's commitment to a one-China policy can unify her party now that it's out of power in Taiwan.

May 31, 2016

All indications are that Taiwan's new leader and the governing apparatus around her are half-hearted about the 1992 Consensus and strengthening cross-Strait relations. Her inaugural speech reflects not American-style candor but Japanese-style victimhood, and does not offer a viable way forward. A period of uncertainty and unpleasant surprises in cross-Strait relations lies ahead.

Apr 06, 2016

As long as both Beijing and Taipei accept the historical truth of the "1992 consensus", and identify with its core implications, the Chinese president pointed out, they will share a common political foundation for maintaining benign interaction.

Feb 05, 2016

The 2016 election has shaken up Taiwan's political scene in a big way, as voters in a post-industrial society seek alternatives to the traditional parties and agendas. It foreshadows a deep transformation of Taiwanese politics, and the ramifications for cross-Strait relations will take time to evolve.

Nov 17, 2015

The leaders reaffirmed the fundamentally important role of the 1992 Consensus in maintaining peace and stability across the Taiwan Strait, offering a status quo of peace and development. It provides guidance to the future development of cross-Strait relations, and all parties should value that no matter who wins Taiwan's 2016 elections.