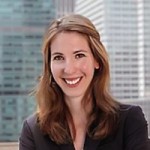 Michal Meidan
Director, China Matters
Dr. Michal Meidan is director at China Matters, an independent consultancy firm that advises investors and government officials on their China strategies, with particular emphasis on the politics of the Chinese energy sector. She was also a senior analyst
Oct 16, 2015

China's recently announced cap-and-trade system to limit emissions is a positive development, but not new. China's emissions trading system (ETS) has seen some capping, and very little trading. Additional challenges lie ahead in the pricing of carbon and introduction of unified measurement, reporting, and verification systems.

Aug 17, 2015

The 1.8% devaluation of the yuan has started a debate in China-watching circles about whether or not the People's Bank of China is trying to make the RMB more market-determined, or trying to make boost its exports. Most likely, Beijing is allowing the RMB to find its feet before the IMF review in November.

Jul 13, 2015

The government's aggressive response in stabilizing "Uncle Xi's bull market," has highlighted the political nature and disconnect between the stock market and overall economic health. The government must decide whether to continue its efforts to open the capital account and liberalize the exchange rate.

Jan 28, 2015

Falling oil prices present challenges for the competitiveness of China's own oil and gas sectors, and while providing short-term benefits for production, poses additional deflationary risks. However, there are opportunities for Beijing to support oil companies in acquisitions, and further its own reserves.

Oct 09, 2014

Reflecting on the recent joint naval exercises between Iran and China, Michal Meidan explores how the strategic relationship between the two nations involves more than just oil and discusses how US-led sanctions against Iran continue to complicate geopolitics.

Sep 22, 2014

Russia's desire to cushion the impact of recent Western sanctions combined with China's attempts to reduce its reliance on oil imports from the Middle East has created an opportune partnership for the two countries. Now, Beijing is set to become the biggest benefactor of Moscow's attenuated international standing, strengthening Sino-Russian relations in the long-term.

Aug 18, 2014

While China's National Energy Administration recently revised its fuel-switching agenda, Michal Meidan points out that this policy alteration is not a sign that the government's commitment to shale is wavering. Instead, the adoption of a more realistic target provides more stability for the industry and bolsters the future of natural gas in China.

Jul 28, 2014

As China seeks to deepen ties with Israel it also needs to balance inherent contradictions of the relationship. While the defence industry was once the cornerstone of Sino-Israeli relations, Washington's objections have limited relations. Still, commercial and trade links are set to expand between Israel and China, raising interesting policy implications for China, Israel, and the US.

Jun 13, 2014

China is becoming more engaged in the Middle East, but there are limits to the depth of this engagement. While trade links have deepened and investments have increased, energy resources remain the centrepiece of Chinese involvement and any official stance on the plethora of complex political issues are strongly eschewed.

May 29, 2014

After last week's announcement that Russia and China finally signed a 30-year natural gas pipeline agreement valued at $400 billion, Michal Meidan analyses the geopolitical implications of this deal and how it could affect global energy markets and the U.S. presence in Asia over the next few years.