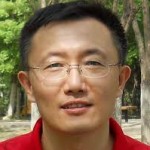 Wang Wenfeng
Professor, China Institutes of Contemporary International Relations
Wang Wenfeng is a Professor at the China Institutes of Contemporary International Relations.
May 17, 2018

Trump is definitely an unconventional US president in many ways, including when it comes to China policy. There are special challenges to understanding his policy.

Mar 31, 2017

As an experienced businessman, Trump may not use words as thoughtfully as a typical politician, which sometimes is his strength rather than weakness. Words can be used as a tool in negotiations in different ways. The real question will be: How steadfast is his word when making deals?

Dec 06, 2016

Policies outlive presidents' terms because they are in America's own interests. Trump's personal style has proved to work well in appealing to voters he needed to get him elected this year. But it will not work that well in appealing to the world when he is in the White House. We must hope that he works to grasp the subtleties of international relations more quickly than his spontaneous style suggests is likely.

May 26, 2015

While the US president is the architect of foreign policy, its development is both a top-down and bottom-up process. As the 2016 election approaches, it's important to listen to those at operational levels within the government and scholars in academic circles, to see how the public consensus about the US-China relationship is evolving.

Mar 31, 2015

The U.S. Congress' inability to pass fair IMF reforms is partly responsible for China's creation of the Asian Infrastructure Investment Bank (AIIB). While the U.S. is not at the center of this newly created institution. America still has time to develop the consensus in Congress to strike a balance between America's leadership in the international system and the demand of others to have enough space, not only to survive in the system, but also to prosper.

Sep 26, 2014

If ISIS turns out to be a major threat to US national security, it's reasonable to believe that the rise of China will become less of a problem for America. As for what it means for China and the US rebalance toward Asia, it still remains to be seen how effective Obama's strategy against the Islamic State will be, writes Wang Wenfeng.

Mar 31, 2014

A new report demonstrates that future relations between China and the US need not suffer a power conflict. Instead, as Wang Wenfeng notes, their cooperation should serve as an example for the international community.

Dec 10, 2013

Following Vice President Joe Biden's trip to Beijing, Wang Wenfeng reflects upon the US perception of China's newly-established Air Defense Identification Zone and lays out four positive signals from the visit.

Apr 12, 2013

While China is repeatedly mentioned as the country that can and should play a special role in solving the North Korean crisis, Wang Wenfeng writes that China has only limited leverage and influence over North Korea, and oftentimes it's not what China wants, but whether North Korea listens.

Jan 29, 2013

While President Obama's new Cabinet has the potential to improve US-China relations, an examination of Hillary Clinton's role in shaping the United States' China policy suggests Obama holds all the cards.