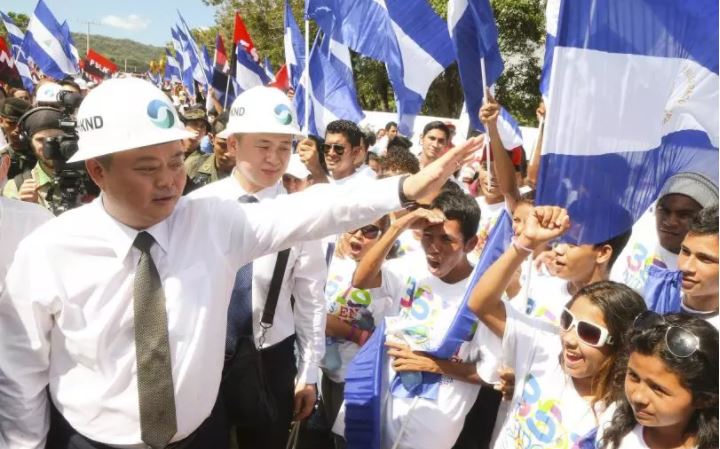 Hong Kong Nicaragua Canal Development Group Chairman Wang Jing greets youths during the start of the first works of the Interoceanic Grand Canal in Brito, Nicaragua, Dec. 22, 2014. (Reuters)
A few short years ago, Chinese investments in Latin America seemed to mean changing the nature of the hemisphere in economic, if not political, terms. One such possibility was a massive canal to traverse Central America, leading to increased commerce between oceans and physically altering the geography of the region. The canal, one out of many proposed, was meant to serve as robust competition for the Panama Canal, seriously changing the calculations concerning intercontinental trade and commerce. It was also meant to establish China's footprint in the hemisphere. Today, the proposed Nicaraguan canal has not broken ground.
Once Upon a Time in the Tropics
Chinese businessman Wang Jing planned to construct the transoceanic canal through Nicaragua. Mr. Wang, head of telecommunications giant Xinwei, had previously built telecom networks abroad, including in Nicaragua, but had no previous experience constructing such an enormous infrastructure project. Financially, the $40-50 billion dollar canal, four times the GDP of Nicaragua, was meant to provide an alternative to the Panama Canal.
Mr. Wang's company was given numerous legal advantages by Nicaragua's Sandinista-controlled government. Among these was a 50-year concession to design, build, maintain, and operate the canal. One consequence of the benefits bestowed on Mr. Wang's projects is that Nicaragua's government has made it almost impossible for Nicaraguans to legally challenge confiscation of their lands for building the canal. This ultimately created social tension and political opposition to China's presence in the Central American country among native peoples, small peasants and landowners. The sums of money involved in such deals are so large that ordinary people are easily sacrificed, while the benefits are concentrated among the elites.
Ostensibly, the Nicaragua canal, at a length of 278 km (with Lake Nicaragua accounting for 158 km), was trumpeted as a boon to world trade, lowering the cost of transport between continents, and promoting the local economy. Nicaraguans, living in one of the hemisphere's poorest nations, can hardly be blamed for hoping the canal would lead to noteworthy development and improvements to social conditions for Nicaraguan citizens. The feasibility of such a canal is, however, seriously in question, given the recent expansion of the existing Panama Canal at a cost of one fifth of the proposed Nicaraguan canal.
Originally, the Nicaraguan canal was intended to accommodate the largest container vessels. These ships are a fraction of all vessels, and the expanded Panama Canal can now easily accommodate such ships. Many U.S. east coast ports, however, have yet to expand to accommodate the larger vessels. In fact, on August 22nd, 2017, the CMA CGM Theodore Roosevelt, with a capacity of 14,414 TEUs and a length of 12,028 feet, became the largest ship to cross the Panama Canal. With the expanded capacity of the Panama Canal, based on commercial priorities, it is hard to imagine how a Nicaraguan canal could compete for even a tiny fraction of the massive transoceanic ships.
Doubts also exist about the Nicaragua canal's financing. As early as 2014, Mr. Wang claimed that financing for the project was in the works, but attempts to confirm such progress have failed repeatedly. Revised estimates have placed the real cost of completing such a project closer to $90-100 billion, making the prospects of a return fade into the distant future.
China's Role in the Americas
A project such as the proposed Nicaragua canal has raised critical questions about Chinese investments in Latin America.
A debate is afoot among economists and scholars on whether China's increasing penetration of Latin American economies is a complementary force for development or whether it reinforces the tradition of path dependency of the region's resource-exporting countries. During his most recent visit to the region, China's President Xi Jinping announced a renewed commitment to trade and investment throughout the Americas; by some accounts an estimated $250 billion in the next ten years.
Given China's massive economic growth, an abundance of capital has become available for foreign investments and this has made for generous credits and loans to developing countries. For many in the Americas, the presence of the People's Republic of China (PRC) was initially viewed as a positive alternative to traditional trade partners such as the United States and Western Europe. At one point, China Development Bank's commitment to the region alone exceeded the combined contributions of the IMF, the World Bank, and the Inter-American Development Bank. Approximately $110 billion has been invested by China in the Americas since 2003.
Of course, the capital was invested as a function of expanding Chinese businesses abroad and supplying Chinese manufacturers with critical inputs fueling the country's industrial boom. Roads, electrical plants, ports and other infrastructure projects were funded to access raw materials for Chinese factories, a practice not unlike that of American, British and Canadian companies doing business in Latin America in the nineteenth and twentieth century.
The phenomenon of Latin American countries exporting commodities while importing finished products has long been criticized for inhibiting the development of robust, diverse, and sustainable economies. Advocates of dependency theory trained generations of economists and politicians to support trade barriers and other obstacles as keys to progress and prosperity. While largely abandoned, these theories may now make a comeback in dealing with China, if the terms of trade result in distortions.
The problem, according to scholars and economists, has been how to break such path dependency on resource exporting, build up home industries and develop domestic markets. For decades, the failure of economic development was blamed on unequal terms of trade and other features of "imperialism." Today it is difficult to see how China's presence differs significantly, and on closer analysis, whether the new path dependency is being reinforced given political conditions in the host countries.
The account of Chinese trade and investment is a mixed one, at least at this point. During the 2008-2009 recession, China's demand for raw materials kept commodity prices high and many Latin American economies were spared the worst effects of contracting U.S. and European markets. Just a few years ago, Chinese largess signaled something too good to be true. Now, the Nicaraguan canal could well serve as a case study in hubris, distortion, and the need for economic prudence by all parties.