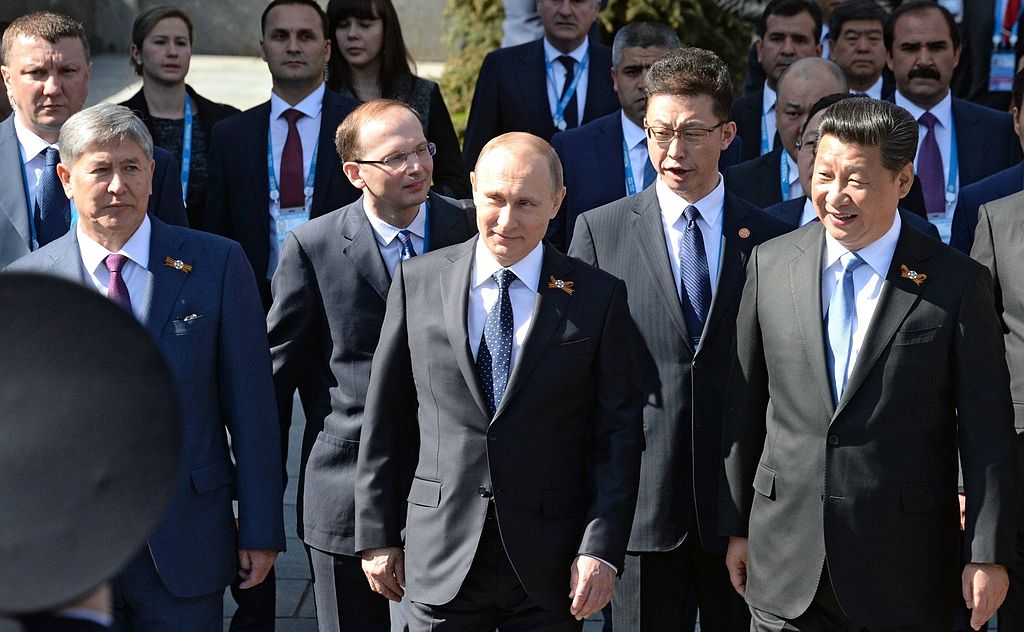 Kyrgyzstans's Almazbek Atambayev (L), Russia's Vladimir Putin (C), and China's Xi Jinping (R) attend Russia's "Victory Day" celebration in 2015. (Credit: Russian Presidential Press and Information Office)
While the international community has been caught up in the war of words between the U.S. President Donald Trump and North Korean leader Kim Jong-un, it missed a fiercer competition of a lesser magnitude—but not of a lesser importance for Central Asia—flaring up in Kyrgyzstan. On October 15, the people of Kyrgyzstan will elect their new president. With a wide field of 59 candidates and only two weeks before voters cast their ballots, there is still no clear indication who will be the successor to current president Almazbek Atambayev.
Such a dynamic is particularly unusual for Central Asia, the region which is infamous for having "predictable elections." The long-serving presidents of Turkmenistan and Uzbekistan, Saparmurat Niyazov and Islam Karimov died in office. Emomali Rakhmon of Tajikistan and Nursultan Nazarbayev of Kazakhstan are still the first and only presidents of their countries. In this context, political life in Kyrgyzstan appears to be much more vibrant – or at least less predictable. After the popular revolution of 2005 and the ousting of the first president, Kyrgyzstan survived another revolution in 2010, ousted one more corrupt president, and witnessed the first woman in Central Asia to become its president (although for only a short transition period).
Current president Almazbek Atambayev has been in power since December 1, 2011, and cannot run for the second term according to the new Constitution of Kyrgyzstan. Yet, President Atambayev has openly supported his long-time friend and former prime-minister Sooronbai Jeenbekov who was nominated for the presidency by Atambayev's political party SDPK (Social Democratic Party of Kyrgyzstan). As Atambayev noted in one of his speeches, "This would have been a good choice for the country. He [Sooronbai Jeenbekov] is … a very honest man. I think he would have continued the current path to build a transparent and honest society." Sooronbai Jeenbekov is known to be part of Atambayev's inner circle, while Jeenbekov's extensive family is one of the most influential families in the south of Kyrgyzstan. In particular, one of Jeenbekov's younger brothers is the Ambassador of Kyrgyzstan to Kuwait, and the other one is the former speaker of the Kyrgyz parliament.
Nonetheless, despite Atambayev's endorsement and the privileged position of the SDPK party in the current governing arrangements of Kyrgyzstan, Sooronbai Jeenbekov's chances of becoming the next president are still indeterminate. The main competitor to Jeenbekov is Omurbek Babanov, another former prime-minister of Kyrgyzstan and leader of the party Respublica. Babanov is known as one of the wealthiest people in the region, whose business interests ranged from fuel supplies and cotton export, to manufacturing and banking.
In one of his press-conferences, Atambayev himself stated that if Jeenbekov was not nominated by his party, he would have supported Babanov.
Accordingly, the main competition for the highest position in the country will be between these two candidates, although there are a number of other contenders who can deliberately or inadvertently help either Jeenbekov or Babanov. For instance, Kamchybek Tashiev, whose party Ata-Zhurt has merged with Babanov's Respublica in order to join the parliament in 2015, opted to endorse Babanov's rival Jeenbekov. Babanov himself enlisted the support of Adakhan Madumarov and Bakyt Torobayev, leaders of the parties Butun Kyrgyzstan and Onuguu-Progress, who were part of a short-lived political union with Tashiev.
That said, although there is high uncertainty about the results of the elections, this is not the case for the foreign policy orientation of the country. Both Jeenbekov and Babanov stand firm for strategic cooperation with Russia and call for a further integration with the structures of the Russian-led Eurasian Economic Union that Kyrgyzstan has been part of since 2014. In fact, most of the presidential nominees called for a rapprochement with Russia (including another former prime-minister Temir Sariyev and former political director of the United Nations Assistance Mission in Afghanistan Talatbek Masadykov). This trend also partially explains why the Kremlin still has not explicitly supported either candidate in the country, which Moscow traditionally sees as its own "backyard".
Nonetheless, what this means for the Chinese-Kyrgyz relations is that there will be no significant breakthroughs or deviations. All major international activities will be mediated through Russia, despite the fact that China emerged as a much stronger player in Central Asia with exclusive access not only to the Central Asian, but also to Russian resources. This seems to be a generally accepted scenario, which suits all actors in the Central Asia region: Russia continues playing a role of a key player and a security guarantor in Central Asia while China continues playing a more informal leadership role. Central Asians continue receiving Russian security and Chinese finances.
Yet, as of April 2017, Kyrgyzstan accumulated nearly 3.8 billion USD of external debt, out of which 1.6 billion USD Kyrgyzstan owes to the Chinese Export-Import Bank. There is a dominant discourse in Kyrgyzstan that China's economic goal in Central Asia is to subdue the region economically and then absorb it into the Chinese empire. Nonetheless, despite the prevalence of such sinophobic views of China and its so-called hidden "expansionist agenda", Kyrgyzstan, counterintuitively, did manage to become dependent on Chinese soft loans. Thus, a serious question for the next president of Kyrgyzstan will be how to break away from the Soviet-born clichés and build relations with China from a more pragmatic and evidence-based perspective. Babanov, for instance, promised to increase the export of Kyrgyz-made goods to China seven-fold, while Jeenbekov emphatically supported Xi Jinping's Belt and Road Initiative.
To some extent the degree of opportunism of the Kyrgyz foreign policy towards China will be determined by the willingness of Beijing to conduct a more systemic policy in the Central Asian region. So far, the engagement of China in Kyrgyzstan (and in the region) was also more ad hoc. The unveiling of the $40 billion Silk Road Fund as part of the Belt and Road Initiative generated immense buzz, as Central Asian states welcomed Chinese willingness to promote neighborhood diplomacy by economic means. Nonetheless, it has been four years now since the announcement of the Belt and Road Initiative, but the commitment of Beijing to invest into Central Asia's deteriorating infrastructure through the Silk Road Fund has not materialized.
Within this framework, China engaged in major projects in Russia, Pakistan and Italy, but not in Central Asia and Kyrgyzstan. To Beijing's credit, China provided several grants to Kyrgyzstan, for instance, to reconstruct roads in Bishkek, build a secondary education school and rehabilitate irrigation facilities in the country. However, these developments appeared to be rather ad hoc initiatives detached from the Belt and Road discourses. Accordingly, Kyrgyzstan will continue its gravitation towards Russia electoral results notwithstanding, while the Chinese-Kyrgyz relations will remain reactive; though the Chinese leverage over Kyrgyzstan will also continue growing steadily, because elites in the region often prioritize short-term goals over longer-term objectives of state-building.