SEATTLE, United States, Sept. 22 (Xinhua) — Visiting Chinese President Xi Jinping on Tuesday called for the world's two largest economies to read each other's strategic intentions correctly and manage their differences properly and effectively.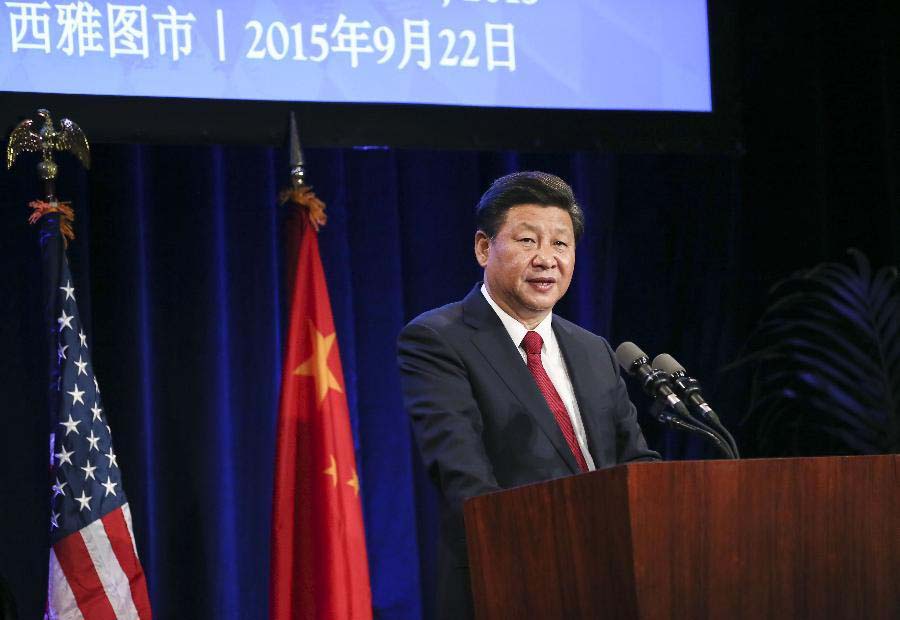 As part of his suggestions on building a new model of major-country relationship between China and the United States, Xi also proposed that the two countries unswervingly boost win-win cooperation and extensively foster friendship between the two peoples.
"We want to see more understanding and trust, less estrangement and suspicion, in order to forestall misunderstanding and miscalculation," the president told a welcoming banquet in Seattle, Washington State.
"There is no such things as the so-called Thucydides trap in the world. But should major countries time and again make the mistakes of strategic miscalculation, they might create such traps for themselves," he said.
Xi arrived in the U.S. West Coast technology and aviation hub of Seattle on Tuesday morning, starting his first state visit to the country.
In his major policy speech delivered at the welcoming banquet hosted by the local government of Washington State and American friendly groups, the president also responded to concerns from the international community about China's current economic situation and the development path it will pursue.
China will stay committed to steady economic growth, reform, opening-up, rule of law, anti-corruption endeavors and the path of peaceful development, Xi said.
"China's economy will stay on a steady course with fairly fast growth … The key to China's development lies in reform … China will never close its open door to the outside world," the president pledged.
CHINA'S FOREIGN POLICY PRIORITY
Speaking at the welcoming banquet, Xi said that building a new model of major-country relationship, featuring non-conflict, non-confrontation, mutual respect and win-win cooperation, is the priority of China's foreign policy.
To read each other's strategic intentions correctly, Xi said, the two countries should strictly base their judgment on facts, lest they become victims to hearsay, paranoid or self-imposed bias.
"We want to deepen mutual understanding with the U.S. on each other's strategic orientation and development path," Xi said.
To properly and effectively manage the differences between the two countries, the president proposed that the two sides respect each other, seek common ground while reserving differences, take a constructive approach to enhance understanding and expand consensus, and spare no effort to turn differences into areas of cooperation.
The president said the two countries should firmly advance win-win and wide-ranging cooperation, noting that cooperation requires mutual accommodation of each other's interests and concerns and the quest of the greatest common ground of converging interests.
"If China and the United States cooperate well, they can become a bedrock of global stability and a booster of world peace," he said. "Should they enter into conflict or confrontation, it would lead to disaster for both countries and the world at large."
On people-to-people exchanges, Xi announced at the banquet that China supports the initiative of sending a total of 50,000 Chinese and American students to study in each other's countries over the next three years, saying the two countries will launch a China-U.S. Year of Tourism in 2016.
"China on its part will create more favorable conditions for closer people-to-people exchanges," he stressed.
ECONOMY TO GROW
To allay the concerns of international investors over China's current economic situation, Xi expounded on the government's policies ranging from economic reform to stock market and RMB exchange rates.
Xi said China's economy will stay on a steady course with fairly fast growth. Although the economy grew by 7 percent in the first half of the year, this growth rate remains one of the highest in the world, he said.
"This has not come by easily given the complex and volatile situation in the world economy," the president noted.
"At present, all economies are facing difficulties, and our economy is also under downward pressure. But this is only a problem in the course of progress," he said.
"We will take coordinated steps to achieve stable growth, deepen reform, adjust structure, improve livelihood and prevent risks, while strengthening and innovating macro regulation to keep the growth at a medium-high speed," he said.
China has a high savings rate, a huge consumption potential, a hard-working population and a rising proportion of middle-income people. This creates an enormous space for the services sector and offers a big market with great potential, Xi said.
Speaking of recent abnormal ups and downs in China's stock market and the government's measures to stabilize the market, Xi said that it is the duty of the government to ensure an open, fair and just market order and prevent massive panic from happening.
"Now, China's stock market has reached the phase of self-recovery and self-adjustment," he said.
On Aug. 11, China moved to improve its RMB central parity quotation mechanism, giving the market a greater role in determining the exchange rate.
"Given the economic and financial situation at home and abroad, there is no basis for continuous depreciation of the RMB," Xi stressed. "We are against competitive depreciation or a currency war. We will not lower the RMB exchange rate to stimulate export."
"To develop the capital market and improve the market-based pricing mechanism of the RMB exchange rate is the direction of our reform. This will not be changed by the recent fluctuation in the stock market or the foreign exchange market," he said.
The president noted that the key to China"s development lies in reform and China will never close its open door to the outside world.
"We have the resolve and the guts to press ahead and take reform forward. We will stick to the direction of market economy reform," he said.
Xi also promised that China will address legitimate concerns of foreign investors in a timely fashion, protect their lawful rights and interests and work hard to provide an open and transparent legal and policy environment, an efficient administrative environment and a level playing field in the market.
RULE OF LAW
The president pledged that China will coordinate its efforts to promote the rule of law in governance and administration, put the building of the country, the government and society on the solid basis of the rule of law, build greater trust in the judicial system and ensure that human rights are respected and effectively upheld.
China is a staunch defender of cyber security and also a victim of hacking, Xi said.
"The Chinese government will not, in whatever form, engage in commercial theft or encourage or support such attempts by anyone," he said, noting both commercial cyber theft and hacking against government networks are crimes that must be punished in accordance with law and relevant international treaties.
"The international community should, on the basis of mutual respect and mutual trust, work together to build a peaceful, secure, open and cooperative cyber space," he said.
"China is ready to set up a high-level joint dialogue mechanism with the United States on fighting cyber crime," he added.
In addition, he said that China recognizes the positive role played by foreign non-profit organizations (NPO).
So long as their activities are beneficial to the Chinese people, China will not restrict or prohibit their operations but will protect their operations through legislation and protect their legitimate rights and interests.
"On their part, foreign NPOs in China need to obey Chinese law and carry out activities in accordance with law," he added.
The president said China will continue fighting corruption but this has nothing to do with power struggle.
"It's nothing like what you see in (the popular American political TV drama) House of Cards," Xi said, triggering a burst of laugh among the audience.
He said that China is ready to cooperate closely with international community in fighting corruption and tracking down fugitives.
"The Chinese people look to the U.S. for support and coordination so that corrupt elements will be denied an overseas 'safe haven'," he noted.
NO HEGEMONY OR EXPANSIONISM
Xi said China has always pursued a defense policy that is defensive in nature and a military strategy featuring active defense.
"No matter how developed it could become, China will never seek hegemony or engage in expansion," he told the audience.
China is ready to work with other countries to build a new type of international relations with win-win cooperation at its core, Xi said.
China has been a participant, builder and contributor of the existing international system, and China stand firmly for the international order and system that is based on the purposes and principles of the UN Charter, he said.
A great number of countries, especially developing countries, want to see a more just and equitable international system, but it does not mean they want to unravel the entire system or start all over again. Rather, what they want is to reform and improve the system to keep up with the times, he said.
China's "Belt and Road" initiative, the establishment of the Silk Road Fund, and its proposal to set up the Asian Infrastructure Investment Bank are all aimed at helping the common development of all countries rather than seeking some kind of spheres of political influence, Xi stressed.
"China has benefited from the international community in development, and China in turn has made its contribution to global development," the president added.