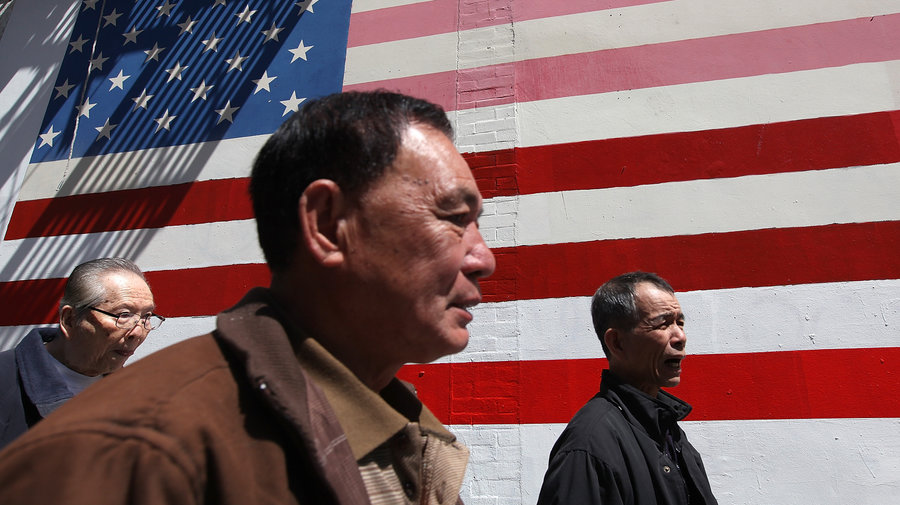 I moved again, to the sixth city where I have lived since 2011. For how long, I have no idea.
In 2013, I wrote a three-piece series on the Chinese student and immigrant experience in Iowa, themed "World Citizen" for my campus newspaper, The Daily Iowan. The topics I covered were: sense of home, job prospects for Chinese students and freedom.
Since then, I've returned to China to work and come back to the U.S. again for graduate school. My thoughts on more abstract ideas of home, Chinese students, freedom, and job prospects have changed somewhat, but the things that struck me four years ago as a fresh Iowa transplant still strike a chord today as I go through yet another transition.
I remember to this day that one of my interviewees, Tang Wenfang, a Beijing native and political scientist at Iowa who has lived in the U.S. for more than three decades, told me that people better not take their national identities too seriously; otherwise, conflicted feelings would easily flare. So he calls himself a world citizen, which had yet to become quite the buzzword it is now.
Village Girl-Turned-Global Citizen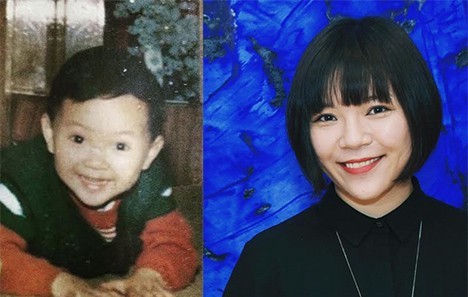 The village girl
I was a Chinese village kid whose parents made it in business and moved to Hangzhou in the 1990s. My father owns a factory that makes mahjong tables. Growing up, I took all the accoutrements of middle-class life for granted. That is, until I started to learn, through family stories, how hard life had been for previous generations. Through journalism, I've also learned how hard life remains for so many in the world—including my peers in rural China still suffering from hunger, poverty and lack of education.
At age 19, despite being a decent student, I flubbed the college entrance exams, and ended up at a third-rate university. Somehow I lucked out with a wonderful professor who ignited my interest in journalism. In my junior year, I headed to the United States on an exchange program, what I thought would be a semester's look-see, and eventually decided it wasn't enough; I ended up completing college at the University of Iowa, double-majoring in journalism and art. As a student reporter for the campus paper and then the non-profit Iowa Center for Public Affairs Journalism/Iowawatch.org, I developed skills and wrote stories that mattered to the public and enriched my life. After graduation, I returned to China, working for CNN in Beijing for nearly two years before leaving the bureau for graduate school.
Thanks to journalism, I have lived a much larger life than I could have imagined as a little village girl. I feel I am becoming a global citizen. Not that I am alone in this process, but the drive to do journalism gives me a meaningful role as I cross national and cultural boundaries.
Lost in "globalization"
At a time when everyone seems obsessed with identity, "global citizen" sounds like a perfect box encompassing anyone who has a sense of curiosity toward the world.
I studied abroad during my formative years and am now back to school as an adult. I worked in an international news organization with colleagues from all over the world, and we liked to talk about serving "a global audience." I care about big-picture issues. I pride myself on having an international perspective. I try to defy the stereotype of "insular Chinese." I advocate for diversity. I enjoy meeting people from all backgrounds. I love trying ethnic cuisines. I'm fine living half a globe away from family, friends, and the culture that I grew up in, and relish the freedom of this in an odd way. There are many nice words associated with these characteristics: cosmopolitan, worldly, sophisticated, urbane.
Here is the other side:
In living half a world away, I have alienated myself from families and friends back home as our paths increasingly diverge. I have exiled myself from the collective life and the sense of intimacy and security that goes with it. I have no sense of home wherever I am. I don't feel particularly close to any culture. I don't celebrate holidays — Western or Chinese. The cultural affairs, social events and political movements — wherever the occurrence is — are all so familiar yet distant, to an extent where sometimes I think of them as just material for stories.
As a result, I have the whole universe' solitude to play. I feel like an invisible person shuttling between two worlds of thinking and two ways of life, observing, absorbing, contemplating, not knowing what to do with myself. I have nothing to grasp.
Mix-up
When I returned to China after finishing my undergraduate studies in early 2015, it became clear that I became an even more outstanding outlier than I had been. The contrast was so stark I immediately gave up trying to fit in with my Chinese peers.
I worked a job that few understood what I was even doing. I was not into fancy credentials and social cachet. At dinner parties where much of the conversation centered on marrying up, marrying down, cars, apartments, designer bags and clothes, and high-profile connections and associates—I had nothing to contribute. Oh, and I'm even terrible at taking selfies. These sound like mere trivial complaints, but they essentially amounted to daily frustrations.
I'd work on holidays, including the Chinese New Year, to avoid relatives' endless nagging and interrogation into my private and professional lives. My parents can't understand why I don't want to return to my hometown, Hangzhou, a prosperous Chinese city where Jack Ma founded his Alibaba empire, for a stable job arranged through family connections, and an easier life. That is, getting married and owning a car and an apartment purchased by my parents — just like the lives of most of my friends back home. Their undutiful daughter is worlds away; they don't get it.
Several Chinese friends have sympathetically said that I am "too Americanized," as if I have betrayed my own culture. When things didn't go right, I had the faintest idea of handling them the Chinese way. Simple and naive, so I was told. I am too blunt, forthright, and individualistic by Chinese standards. Chinese pragmatism is something I have failed to master; almost every time I choose the hardest and most-risky path to go on. Consequently, I have not lived a day of easy, comfortable life that my parents would love for me to have.
But I am definitely not American, and I have no desire to become one. Ever since my initial desire of blending into American culture faded when I discovered myself unconvertible to Christianity—despite the efforts of the nice Christian students on the Iowa campus—I have not sought assimilation anymore. I have known since I was a young child that it's difficult meet like-minded people — no matter where they are from — knowing how not "mainstream" I am.
I don't keep up with pop culture or the latest trends of whatever. My genetic intolerance of alcohol has kept me away from nearly all going outs and house parties with peers. I can't care less about sports — sorry, Hawkeyes and Cubs fans; I just don't have the collective pride that sports fans share. Don't I sound like an unsociable loner?
I am totally mixed-up, just like the fusion food that I used to scorn. Before I even noticed, I had started making fusion food myself: Cheese in sir-fries; soy sauce and sesame oil to go with salads — you get the idea. Authenticity is not my priority anymore because I myself is no longer purely authentic of anything.
I know, I know — I am such a brat, privileged and spoiled. I am a student in an elite graduate journalism program living in a big city, who, without much life experience, has only worked for a brand-name news outlet, complacent with her reporting on global and national affairs, economic and financial movements and gender and LGBTQ issues. I talk about globalization all the time but have barely set my foot on farms in the heartland nor have I traveled to rural Chinese villages. I heard that they call people like me the "aspirational class." See, how very classy.
Utter cynicism
What I find amusing lately is that a Chinese student's commencement speech at the University of Maryland hit a nerve home and abroad because she said she had come to the U.S. for fresh air and freedom.
Neither the speech nor the backlash struck me as surprising. I might have been trolled four years ago when I wrote that I came to America for freedom — more personal choices, to be precise — if my article had gone viral. But I would feel like a failure if my friends and readers know only the smog about China.
My experience in the U.S. has undoubtedly shaped who I am today. I take it all, for better or for worse.
Six years ago, when I first moved here, this country to me was the green light across the bay on Daisy's deck. My "honeymoon period" with my host country has long been gone, and I don't romanticize it — or any other place — anymore. Not uncommonly, I've experienced hurdles, difficulties, micro-aggressions, and overt discrimination as an outsider; I've witnessed injustice, unfair practices, attacks on freedom of press and democracy and yes, all the brouhaha around the Trump presidency. Yet for all its flaws, I am still here, cherishing the openness and possibilities of the country. Perhaps I have not even experienced the real American life because all along I have only been a student. But who wants to live a real life anyway?
I never care much about being an outsider or foreigner. In fact, I enjoy the outsider-ness in many ways. One of things that I feel good about is that my mindset hasn't shifted to a nationalist one, nor have I joined the "China-bashing club," while I'm certainly critical about all its faults. Watching China from afar, I've gained a much clearer view of its problems than when I was on the ground covering and living through them.
I don't necessarily have the national or cultural pride of being Chinese, nor do I feel ashamed about it. I mean, it is what it is. I do feel offended, however, when sweeping generalization and cultural condescension are in play, which, interestingly, has made me examine my views on other countries and cultures with extra caution. Thanks to that, I have certainly appreciated and valued open-mindedness, respect and perspective even more as a journalist as well as an individual.
It's unclear whether it's my profession or my experience of living and studying abroad that contributes to my utter cynicism. Sometimes there is too much of it even I get annoyed at myself. I may be in an identity crisis, or a quarter-life crisis — I don't know.
People often ask where I see myself in five or ten years, I make up something different every time. The truth is, there is a clear pattern of uncertainty and unpredictability in my life over the past few years, so clear that I can hardly foresee where I will be in the next six months.
The only firm conclusion I have come to this far is that there is no ideal place to be; life is hard everywhere. Feeling rootless or not, I guess I will just try to have fun while I can. But I will stop moving around when I am tired.