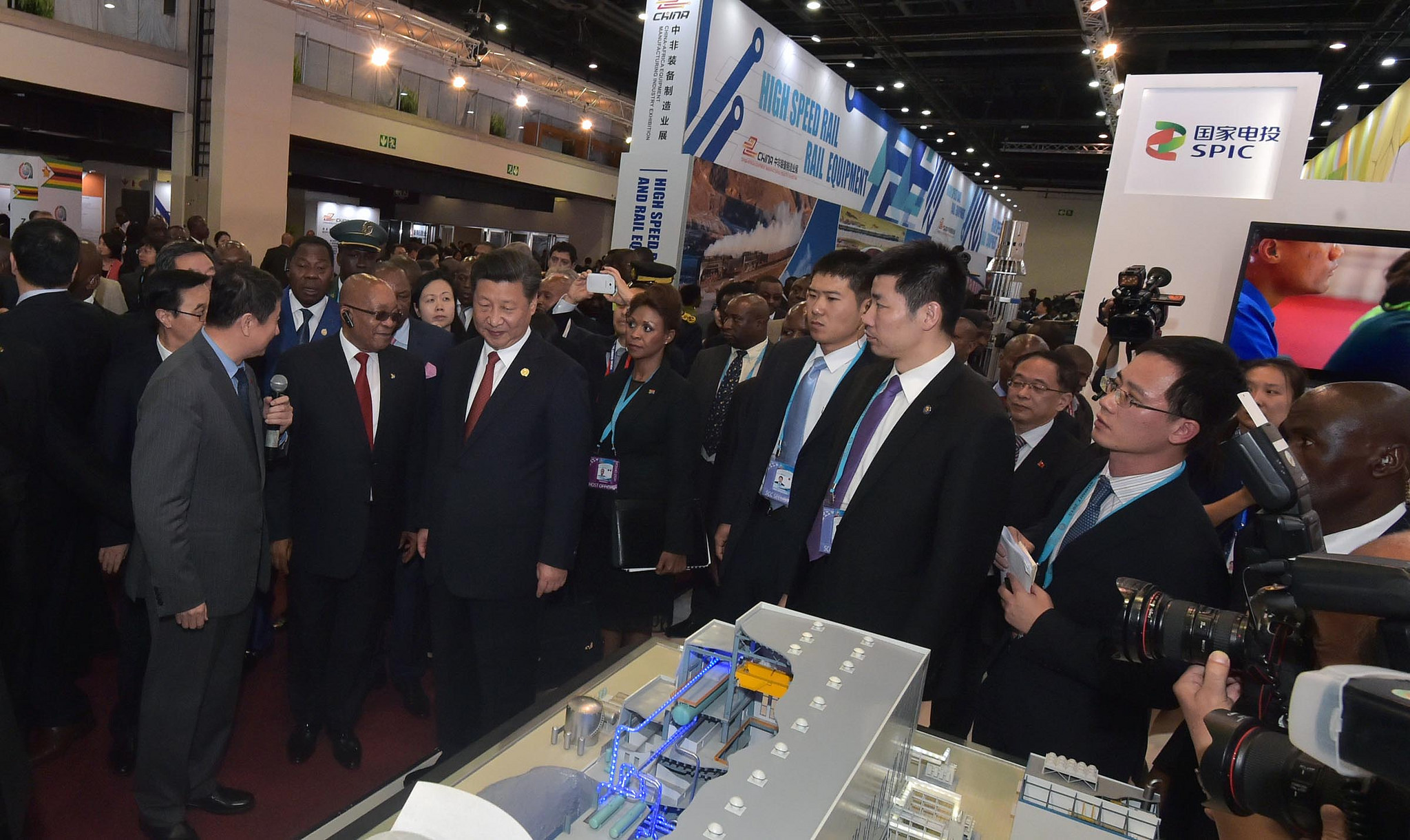 President Jacob Zuma, Chinese President Xi Jinping President and Zimababwean President Robert Mugabe during the opening ceremony of the China-Africa Equipment and Manufacturing exhibition at the Johannesburg Summit of the Forum on China Africa Cooperation( FOCAC ) held in Sandton Convention Centre, Johannesburg.
As China grows its presence in Africa, the United States and Europe are joining the chorus in criticizing it for its African engagement, claiming that Beijing "plunders" African resources, offers "few, if any, jobs" for locals and neglects "human rights" there. The United States recently hyped up the theory of a "debt trap". It tries to accuse China of providing huge loans to African nations through the Belt and Road Initiative, which would eventually land Africa into heavy debt. The Western criticism of China-African cooperation is not based on facts, but rooted in long-held domineering arrogance and habitual indolence, or to a great extent, the zero-sum mentality.
Did China really plunder African resources? Certainly not. Europe and the United States accused China of importing natural resources from Africa and exporting industrial products there, but the fact is that such a trading pattern was actually established by the African economy. During hundreds of years of colonial rule, African nations failed to build complete industrial systems, and the foreign trade structure of about two-thirds of African nations is pretty much the same as it was in the early days after independence, mainly relying on exporting one or two primary agricultural and mining products. For about one-third of African countries, the export volume of a single product accounted for more than 75% of their total exports. Many Western nation's trading structure with Africa is little different to China's. Take trade between the United States and Africa as an example. Petroleum for a long time accounted for about 90% of U.S. imports from Africa. When Chinese companies were developing energy and mineral resources in Africa, they were often awarded blocks with harsh and difficult exploration conditions while the quality and easy-to-mine blocks were taken by transnational oil companies from Europe and the United States. When China bought natural resources from Africa, the deals were made under a fair pricing system. To some extent, it was China's strong demand that helped push up global prices of commodities after 2000, which consequently contributed to rising incomes in African nations.
Did Chinese companies operating in African really help boost local employment? Yes, for sure. The African operations of Chinese enterprises have created tremendous employment opportunities for locals. Many international organizations have found this to be true. In 2017, an Ernst & Young report said that Chinese investments in Africa in 2016 helped create three times the number of jobs created there by the United States. According to the report "Dance of the Lions and Dragons: How Are Africa and China Engaging, and How Will the Partnership Evolve?" released by McKinsey & Co in 2017, Chinese companies in Africa employed a high and growing proportion of locals, and Chinese enterprises were also active in transferring technologies to their African partners. With China and Africa deepening cooperation in production capacity, Chinese companies will create more jobs for Africans. Take the Mombasa-Nairobi railways constructed by China Road & Bridge Corporation as an example. It helped create 46,000 jobs for locals and also helped expand the Kenyan railway training school. In fact, many Chinese companies in the manufacturing sector see African labor as a unique advantage, and will be more than willing to hire locals. Huajian Shoe Co in Ethiopia is another good example.
Did China land Africa into a debt trap through initiatives like the Belt and Road? Certainly not. According to the World Bank, Africa's outstanding external debt at the end of 2016 stood at $6.01 trillion. Of that amount, debts owed to China from 2000 to 2016 amounted to about $114.4 billion, just 1.8% of Africa's total foreign debt. In comparison, they owed about 36% of their total debt to the World Bank and the International Monetary Fund. Furthermore, of China's loans to Africa, about 40% was invested to construct electricity facilities and 30% went to the construction of transport infrastructure, and this, in the long run, would benefit the economic development of the continent.
As for European and American criticism of China's neglect of human rights in Africa, it's more or less the result of the differences in values between China and Western nations. China emphasizes the conception of "development first", considers development the most fundamental of human rights, and attaches no political conditions on African aid. This is in stark contrast to the so-called "human rights-oriented" approach for dealings with Africa by Europe and the United States. It's normal for China and the United States to have different values, but they should all respect the independent choice of development paths by African nations. The "Look East" policy adopted by countries like Ethiopia and Rwanda is aimed at building "development-oriented nations". These countries share political values with China, and a growing number of African nations want to learn from the China model, and China and African nations are increasingly engaged in governance exchanges. This proves that Western standards on issues such as human rights are not universal or applicable to all.
Some criticism or accusations are obvious lies. For instance, some French media outlets claimed earlier this year that China installed eavesdropping devices at the headquarters of the African Union, and some U.S. media outlets alleged that China's military base in Djibouti used a "laser weapon" against U.S. military planes, which threatened the safety of pilots and planes. Such weird accusations were soon proven to be lies, but the negative effects they caused for China still linger.
It's true that Europe and the United States still dominate the global media arena, so it's natural that their critical voices against China are always louder, but this does not mean that they are always right. In April, Deborah Brautigam, renowned American scholar of African studies, wrote in the Washington Post that criticism of China's engagement in Africa by American politicians and media "are not actually true". Behind the scenarios is the strategic anxiety of Western powers, particularly the United States, about the spread of China's influence in Africa, and European and American politicians did not really want to hear the true appeals and expectations of African nations. For instance, when former U.S. secretary of state Rex Tillerson visited Africa in 2018, he accused China of "predatory economic practices", which landed Africa in a deep "debt trap". He was refuted by African leaders, including African Union Commission Chairman Moussa Faki Mahamat.
China, however, should understand that lies won't die by themselves. China has done a lot for Africa, and should also, through official and private channels and with solid data and examples, tell the "China story" to the world, particularly Europe and the United States. By doing so, it could help quell malicious voices about China-Africa cooperation.