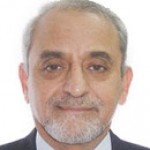 Sajjad Ashraf
Former Adjunct Professor, National University of Singapore
Sajjad Ashraf was an adjunct professor at the Lee Kuan Yew School of Public Policy, National University of Singpore from 2009 to 2017. He was a member of Pakistan Foreign Service from 1973 to 2008.
May 27, 2021

China's upward trajectory can be seen most tangibly in its many investments in Africa - home to many of the world's fastest growing economies. The U.S., fearful of being unseated as the world's central power, has to play catch up on the continent.

Apr 28, 2021

Existing tensions between India and Pakistan are being stoked by the U.S. and China, with all parties seeking the elimination of perceived threats for rapid economic growth and security.

Mar 25, 2021

The Quad's loose confederation of democratic, U.S.-backed states in Asia and Australia was meant to stand-up to China's economic might, but it may have presented China with ample motivation to fight tooth-and-nail for recognition.

Dec 08, 2020

The Regional Comprehensive Economic Partnership consists of all the major and middle Pacific Rim powers, save for one - the U.S. The assertiveness Asian countries are showing is indicative of the ongoing gravity shift in economic and political clout.

Aug 03, 2020

The United States is increasing pressure on China in the South China Sea, by sending two of its largest ships into the area. Beijing has no alternative but to respond in kind.

Jul 02, 2020

Central Asia, which is abundant with minerals and holds strong economic promise, is caught in a growing power rivalry between China and the United States.

May 17, 2020

The world needs global leadership to overcome COVID-19. But, the consequences of America's discomfort at China's rise and its attempts to contain the virus will damage the international community.

Nov 09, 2018

Following years of disputes and suspicion, China and ASEAN recently completed their first landmark maritime field training exercises. The fact that they took place is a testimony to the broader changes taking place in China's relations with the ASEAN.

Mar 02, 2018

The China-Pakistan Economic Corridor (CPEC), a $62 billion China-funded 'flagship project' within China's Belt and Road Initiative (BRI), is fast heading towards the closure of deals on 'early harvest' projects. With five energy projects commissioned and several more on course, these should help lift Pakistan's economic output.

Sep 14, 2017

The U.S. may be the strongest state militarily, but it needs regional players like China, Iran, Russia and Pakistan to make success of its policy choices on Afghanistan. Operationally it needs to rely on Pakistani ports and road networks to resupply American troops in Afghanistan.