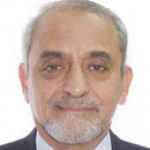 Sajjad Ashraf
Former Adjunct Professor, National University of Singapore
Sajjad Ashraf was an adjunct professor at the Lee Kuan Yew School of Public Policy, National University of Singpore from 2009 to 2017. He was a member of Pakistan Foreign Service from 1973 to 2008.
Jul 04, 2023

Washington's increased presence in the Asia-Pacific region, along with the polarization of America's political system, are intensifying the challenge of reaching a breakthrough with China. And as tensions grow, particularly surrounding Taiwan, the U.S. must build on the momentum from Blinken's visit and seek compromise with Beijing.

Apr 28, 2023

The Indian Ocean, as a maritime crossroads of international trade, is a key area of competition between China and the United States.

Jan 31, 2023

Australia's alignment to the West and its trade barriers with China has entrenched tensions between the two Asian countries.

Dec 02, 2022

ASEAN toes a delicate balancing act between China and the United States, and the latest ASEAN Summit demonstrates the complexities involved in steering clear of unnecessary tensions.

Nov 09, 2022

The rapid decline in understanding between China and the U.S. has sparked concerns over the peaceful transition from one dominant power to the other.

Jul 07, 2022

Is the U.S. ready to meaningfully engage with the Asia-Pacific region? Their latest offering comes in the form of the IPEF, and the differences between the U.S.-led trade pact and competing ones led by Asian powers will show whether American leadership has brought enough to the table.

Jun 02, 2022

The China-Pakistan Economic Corridor (CPEC) is an essential component of Beijing and Islamabad's economic relationship, but the CPEC has faced extensive pressures internally and externally, including strong criticism from the U.S. and India.

Mar 15, 2022

America finally issued a broad statement on its Indo-Pacific strategy, predictably addressing concerns about China's influence and spelling out its intention to play into its allies' favor. Meanwhile, ASEAN must respond to the latest development to retain their own autonomy and stability in what many are sure to see as rising tensions.

Feb 08, 2022

ASEAN is the crossroads of the Pacific, and one of the world's most strategically valuable trade routes. Their high volume of trade with both the U.S. and China put them at the intersection of something else - the escalating struggle between the two superpowers for global supremacy.

Oct 13, 2021

The creation of AUKUS is being criticized by many as an instigation on the part of the U.S. and the U.K., with third parties in Asia as well as Europe deeply troubled by its announcement.