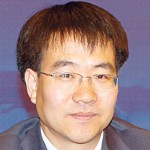 Niu Li
Director of Macro-economy Studies, State Information Center
Niu Li is the Director of the Macro-economy Studies Office at the Economic Projections Department of the State Information Center.
Aug 04, 2017

Since the start of 2017, China's economy has shown a stable recovery supported by the better-than-expected exports, high industrial reserves, and a hot property market. Even with financing difficulties and rising costs, it appears that China's economy will continue to stabilize with improvement through the latter half of the year.

Jan 06, 2017

Deeper supply-side structural reform will be pursued as China enjoys early benefits of steps taken in 2016 despite downward pressure on the nation's economy.

Aug 31, 2016

China's macro challenge: Stay problem-oriented and target-oriented, considerably alleviate the financing difficulty of the private enterprises, reduce excess capacity, foster a driving force for a new growth and stimulate private investment – all while speeding up supply-side structural reform.

Mar 24, 2016

China's new Five-Year Plan emphasizes the quality of growth rather than speed as the country enters a period of 'new normal'. Maintaining 6.5 percent of economic growth is a priority, but it is even more important to keep such a growth rate sustainable and to channel that growth toward improving the quality of life for the majority of Chinese citizens.

Sep 16, 2015

China's economy has shifted to a slow gear, having a bigger impact on those resource-exporting countries which highly depend on China's market, but having no remarkable impact on European and the US economic growth. In particular, China's slow economy is not the "culprit" of the recent US stock market slump, which was caused by the American market's own problems.

Mar 18, 2015

Despite China's remarkable growth, the property market still faces the challenges of consolidation, industrial overcapacity, financial risk, deflationary risk, and structural employment issues. In response the government will adjust to the economy's "new normal" of slower growth, move toward an innovation based economy with more public goods and services, and pursue a proactive fiscal economy and a prudent monetary policy.

May 22, 2014

Recent reports on China's GDP are based on an overestimation of China's purchasing power parity due to different calculation methods, writes Niu Li. While China's aggregate economy is very large, it must continue to build up its service industry and increase domestic demand rather than solely focusing on the quantity of economic growth.

Jan 15, 2013

Niu Yi writes that China's economy in 2013 will be guided by the quality and efficiency of economic reform, and that a new model of urbanization will provide the largest potential for promoting domestic spending.