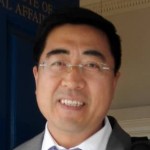 Feng Zhongping
Director, Institute of European Studies, Chinese Academy of Social Sciences (CASS)
Feng Zhongping is Director of Institute of European Studies at Chinese Academy of Social Sciences (CASS).
Dec 29, 2022

The notion of decoupling has lost steam across Europe, though some countries are still looking to reduce their dependence on China. How Europe chooses to balance cooperation with competition will be the key as the two sides cooperate in areas of shared interest.

Oct 07, 2021

How should China deal with Europe? The answer is becoming increasingly complex. Changes in approach are necessitated by Europe's effort to redefine its role as a mere international trade actor. It seeks to become a major geopolitical power in its own right, independent of the United States.

Apr 29, 2021

It's a critical time for global order China and Europe must manage and adapt to increasing competitiveness in their relationship and find a pragmatic, rational and balanced approach to their relations. But they must also increase communication and cooperation to prevent the world from renewing the pattern of major power confrontation.

Jan 22, 2021

China and the EU are staunch supporters of multilateralism, and the recent BIT agreement, underpinned by institutionalized rules for win-win cooperation, will significantly shore up confidence in cooperation in global governance.

Oct 28, 2020

Both China and the European Union have a strong desire to strengthen cooperation, despite the inevitability of future challenges. Green development, the digital economy and global challenges will increasingly be the new driving forces.

Jun 18, 2020

The European Union wants to forge stronger bonds with China because its members know what that means. As the world's second-largest economy, and with its immense consumer market, China has a lot to offer.

Apr 23, 2020

Populist forces increasingly make it hard for the EU to move forward. Now, the pandemic has triggered a new set of problems, impeding interaction between China and Europe.

Sep 12, 2019

The G7 Summit, which just concluded at the French seaside resort of Biarritz, showed that Europe and the United States diverge with and even increasingly confront each other on trade issues. Considering its fading influence, the continued value of the G7 has been thrown into doubt, even by European academia.

Apr 11, 2019

The European Council has issued a new definition of China: from the EU perspective, China is simultaneously a political and economic challenger and a partner in multilateral global governance. Through established forums like the G20 and UN, along with new iniatitives like the Belt and Road or the "16+1" format, China and Europe can build on their trade partnership to face common challenges like climate change.