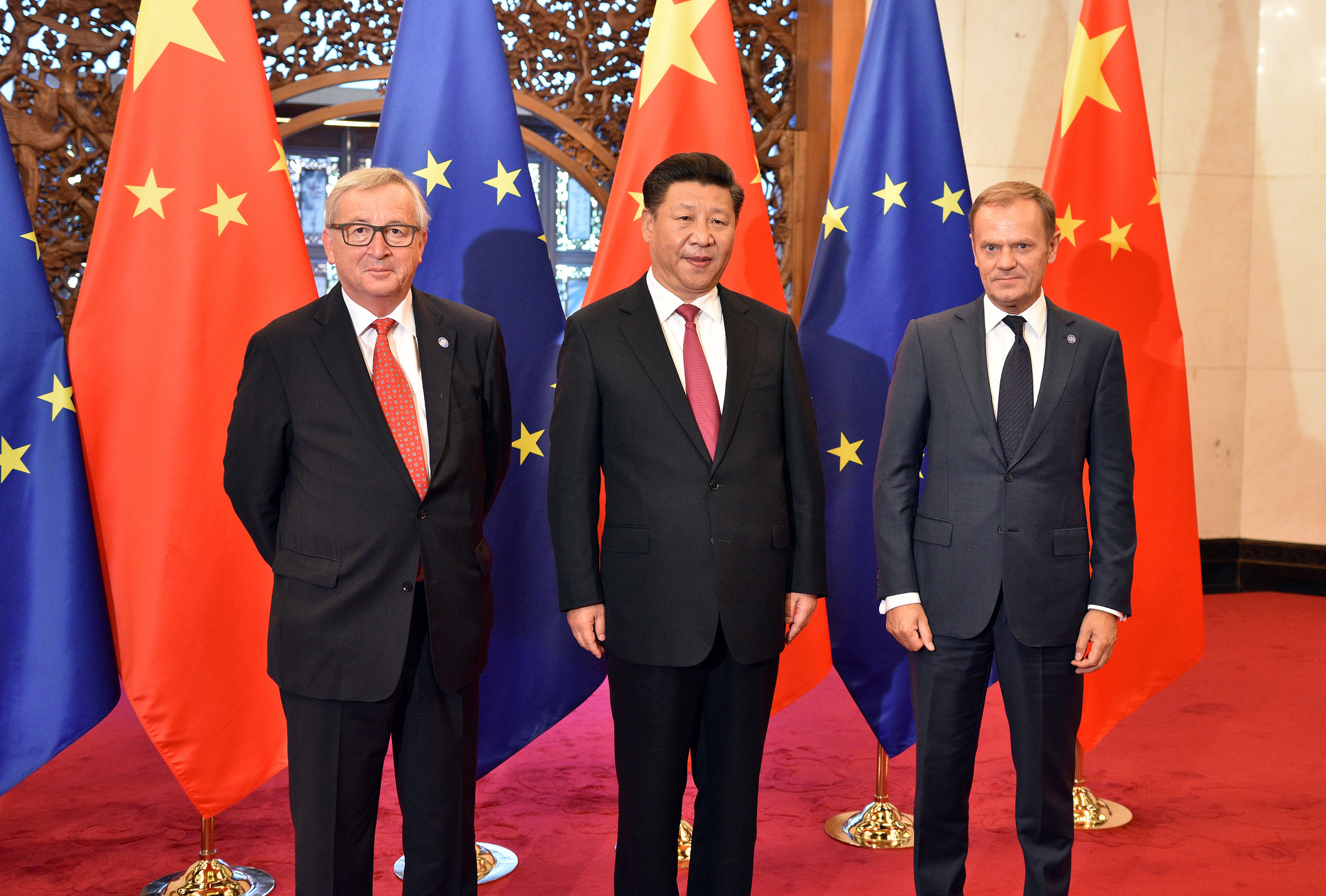 From the left, Jean-Claude Juncker, President of the European Commission, Xi Jinping, President of the People's Republic of China and Donald Tusk, President of the European Council at Diaoyutai State Guest House for the 18th EU-China Summit in Beijing in July 12, 2016 (Picture Credit: European External Action)
On September 19, the European Union Commission and High Representative of the Union for Foreign Affairs and Security Policy jointly released a policy document titled "Connecting Europe and Asia: Building Blocks for An EU Strategy". The 13-page document has attracted attention from many countries, including China.
This is mainly because the document sends important signals. It has four aspects worth serious attention.
First, though the EU has long aspired for high-level connectivity with Asia, and has made many preparations for this in the document, the timing of its release is significant. One day before its publication, the United States announced it would levy tariffs on $200 billion of Chinese exports.
The document shows a wide gap in world views between the US and the EU. The document notes: exports to Asia account for 35% of overall EU exports (€618 billion), imports from Asia account for 45% of overall EU imports (€774 billion).For Europe and Asia, increasing reliance on each other presents opportunities for more cooperation, including peaceful political cooperation, fair and deeper economic relations, social dialogue, and cooperation in global and regional affairs. EU decision-makers have demonstrated dramatic differences from the Trump administration on international development.
Second, that the EU has worked out a special document on connectivity with Asia indicates Asia's importance in the EU's foreign affairs. Soon after the Cold War ended, the EU saw Asia's economic significance. The EU then made two major decisions. First, it came up with its first strategic document on Asia policy in 1994. One year later, the EU issued its first China policy document.Second, the EU was interested in joining APEC. After being refused, then French president Jacques Chirac and Singapore prime minister Goh Chok Tong proposed and established the Asia-Europe Meeting mechanism in 1996. This year's meeting of Asia-Europe leaders will be held in Brussels in October, and the Asia Strategy is on the agenda for that meeting. Compared with the first document, the new EU policy document further emphasizes Asia's importance, believing Europe and Asia can together become a more cooperative engine propelling global stability and prosperity. The new document is also more focused, concentrating on promoting EU-Asia connectivity in the transportation, energy, digital, and personnel fields.
Third, the EU document also conveys the message that the EU will apply its experience with regional cooperation to connectivity construction with Asia. The document calls European experience the "European way", pointing out the EU hopes Europe-Asia connectivity will be sustainable, comprehensive, and based on rules. Sustainability means to become economically, environmentally and socially sustainable. Being comprehensive means it includes the flow of goods, services, capital, and personnel. Being rules-based means in order to secure business efficiency and fair competition, Europe-Asia connectivity should follow internationally accepted practices, rules, protocols, and technological standards. That the EU has placed particular emphasis on the "European way" is because it believes such ideas are rooted in its own experience with European cooperation over the past decades.
Fourth, this document also expresses willingness to cooperate with other countries, including China. As soon as it was published, some Western media deemed it a response to China's "Road and Belt" initiative. Yet this was denied by EU High Representative for Foreign Affairs and Security Policy Federica Mogherini. What this means is very important for China-EU cooperation in the future. For five years, European countries and the EU have shown increasing interest in the China-proposed "Road and Belt". Many European firms are willing to join the program, and Central and Eastern European nations in particular see the Chinese proposal as an opportunity for local development, actively seeking to dovetail their own development programs with the "Belt and Road" within the 16+1 framework for cooperation. Of course European media has some dissenting voices, for instance, believing Chinese construction projects lack transparency, or worrying that China may expand geo-political influence via the "Belt and Road".
Generally the EU document conveys the message of enhancing EU-Asia connectivity via cooperation. For example, part four of the document expounds building international partnerships. The document states the EU should take advantage of the platform for China-EU connectivity, strengthen cooperation with China in infrastructure and development cooperation, upgrade market access and fair competition, as well as follow international standards in connectivity proposals. Regarding investments, the EU Commission will consolidate collaboration with the ADB and AIIB. In general, the "European way" for Europe-Asia connectivity may constitute a certain degree of competition with the "Belt and Road", but overall there is tremendous room for China-Europe cooperation. China-EU cooperation on connectivity is in both parties' interests, and conducive to regional stability and development.